Home » Android, Handsets, LG, News, Rumors
LG Optimus Big leaked !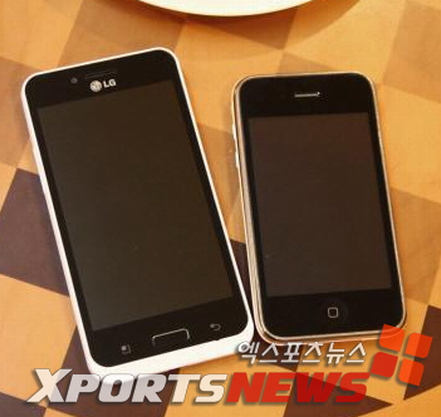 In the beginning of this new year, LG shocked everyone by announcing the first phone with Tegra 2 processor, which is known as the LG Optimus 2x (read our review). LG is one of the leading mobile phone companies in the world. At the MWC, LG also announced their first ever 3D phone and tablet. Now LG is planning to bring a new smartphone and it will be something big because it's known as LG Optimus Big.
The phone is rumored to have a 4.3 inch Nova display and a single-core processor. Well, I don't believe the single-core thing because almost all the new LG smartphones are running on a dual-core processor; anyway it's a rumor so we should wait for some official words. The image above is showing it why it's known as Optimus Big. As you can see the phone is really big as compared to the Apple iPhone 3G/3GS. It's reported that it will be launched in S.Korea by LG Telecom next month where it will be known as LG U+. Well, at the moment we don't know if LG is planning to launch this phone outside S.Korea, but we hope that it will hit other countries too because LG fans are all over the world. So after checking out the image above, do you think the phone is big enough to fulfill your need, or is it too big?