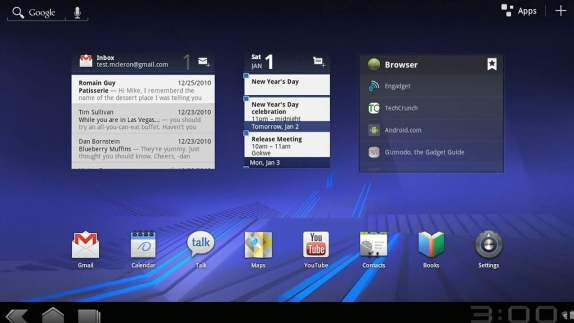 Google has just shown of the next major version of Android tailor made for Tablets called Honeycomb (Android 3.0 ) in a Video. There was some confusion if HoneyComb was Android 2.4 or 3.0  and now its clear that it's 3.0. Also HoneyComb is  built entirely for tablet according to the Video you can watch below
The features of Android 3.0 HoneyComb showcased in the video are
Customizable homescreen
Rich Web Browser with support for Tabs
Tablet optimized Gmail
Redesigned Youtube
Gmail Video Calling
3D Google Maps
Google eBooks
What do you think of Android 3.0 ? Would you like to use it on a Tablet ?
We should be hearing more details soon !
We just heard about Android 2.3 with the launch of the Nexus S and some users are still waiting for an Android 2.2 update for their phones and Google is readying Android 3.0 .
Source: AndroidDevelopers