Home » Android, LG, USA, Verizon
LG LTE Android phone for Verizon leaked !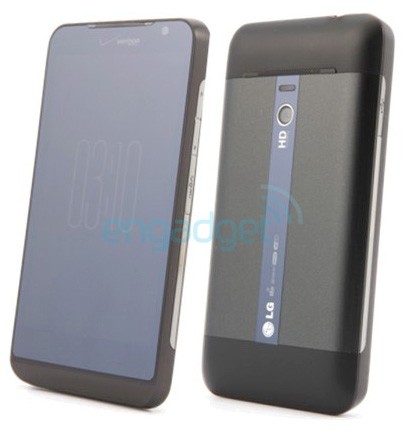 Verizon Wireless is planning to launch LTE 4G network in early 2011, and there's no doubt in it that they will launch some new LTE compatible phones too. Folks over at Engadget got their hands on an image of LG Android powered phone, which is a high-end phone and comes with LTE capability. It means that this LG phone could be one of the first LTE phones Verizon is planning to launch early next year. Well, LG high-end phones are not powerful like Samsung, HTC or Motorola, but may be the upcoming phone is going to be better than the others. Well, no words on the features of the phone, but as we can see the phone comes with HD Camera, which means 720p or 1080p video recording, front facing camera, WiFi, and DLNA. I am sure that the phone will feature the new Android 3.0. Verizon is planning to launch 6 new LTE phones, so may be we would see this LG device during the CES 2011 in January. Well, the phone looks sexy to me, what about you people?