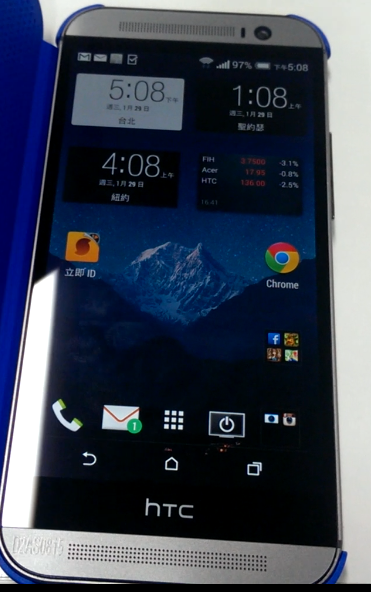 The HTC M8 is possibly the worst kept secret in the mobile industry right now, just like its predecessor, the HTC One. The Taiwanese company has been planning its next flagship for a while now, and our bets are on a MWC reveal later this month. After leaking out in the flesh, with dual cameras on the back and even on screen buttons on the front, the latest leak portrays the HTC M8 with a full view of the front. As expected, we are seeing the leaked on screen buttons, and also the very familiar design from the HTC One, which is a good thing.
From the image, it looks like the screen is larger, in the realm of 5 inches, but the top, bottom as well as the side bezels look almost the same as the HTC One. To accommodate the larger screen, the body is a bit narrower, with the same micro-drilled laser holes for the stereo speakers at the top and the bottom. As a consequence, we are seeing slightly more rounded corners, which resemble the iPhone. The HTC One had really great speaker output and design, so it is good to see those retained for the HTC M8.
We had earlier taken a look at the back of this device, which sported two cameras instead of one, which might mean that either they are going for some refocusing tricks or may be stashing in a 13 MP camera as well as a 4 MP Ultrapixel for giving the people a choice. After the heavy marketing of the Ultrapixel brand, HTC would not want to let it down, eh? That said, the M8 will also come with the newer sense UI that you can see in the image above. It will be interesting to see if HTC has more in store for us at the event, as pretty much everything about the M8 can be predicted right now, and we also know how it looks, if the leaks are legit. So, what do you think? The HTC One was one of the best looking phones of last year, will the M8 repeat that this year? Let us know in the comments section below.
via mob.hr