NVIDIA has announced the Tegra K1, the company's latest 192-core processor at the International CES 2014 in Las Vegas just now. Last year NVIDIA showed-off Logan mobile SoC with Kepler GPU, now the next-gen Tegra K1 mobile processor uses the same Keplar GPU. NVIDIA has announced that Epic Games would bring Unreal Engine 4 to Tegra K1. Kepler GPU also supports latest OpenGL 4.4 and Direct X 11.1.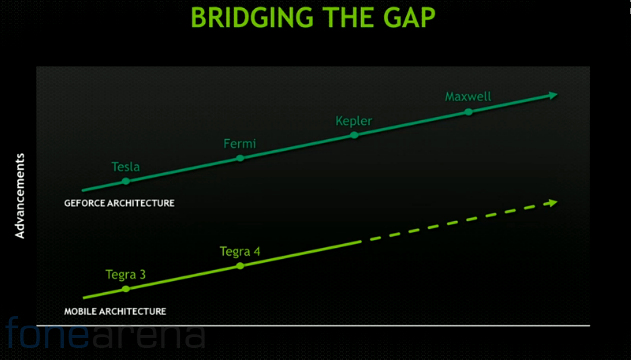 Here is a slide from the NVIDIA event that shows their Advancements for future mobile CPUs. The Tegra K1 uses Kepler that is built on the same Kepler graphics architecture found in its latest generation of PC GPUs such as Nvidia GeForce Titan. Future CPUs would use Maxwell architecture.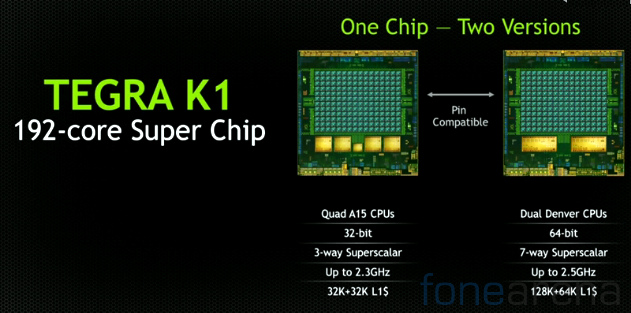 NVIDIA Tegra K1 is offered in two pin-to-pin compatible versions.
Up to 2.3 GHz 32-bit quad-core, 4-Plus-1 ARM Cortex A15 CPU, LPDDR3 RAM, Up to 3840×2160 pixels display support, HDMI – 4K (UltraHD, 4096×2160)
Up to 2.5 GHz NVIDIA-designed 64-bit dual Super Core CPU codenamed Denver for high single-thread and multi-thread performance. Based on ARMv8 architecture
httpv://www.youtube.com/watch?v=GkJ5PupShfk
Both these use 192-core NVIDIA Kepler GPU. The Kepler GPU  is 1.5 times more efficient than other mobile GPUs, says the company. The 32-bit version of the NVIDIA Tegra K1 is expected in devices in the first half of 2014, while the 64-bit version is expected in devices in the second half of 2014.