With less than a couple of weeks left for CES 2014, companies have started announcing what they are planning for CES 2014 and today, LG has announced that it hopes to make scenes from SciFi movies a reality. At CES 2014, LG are planning to unveil a whole range of Smart Home appliances which can communicate with the user via smartphones.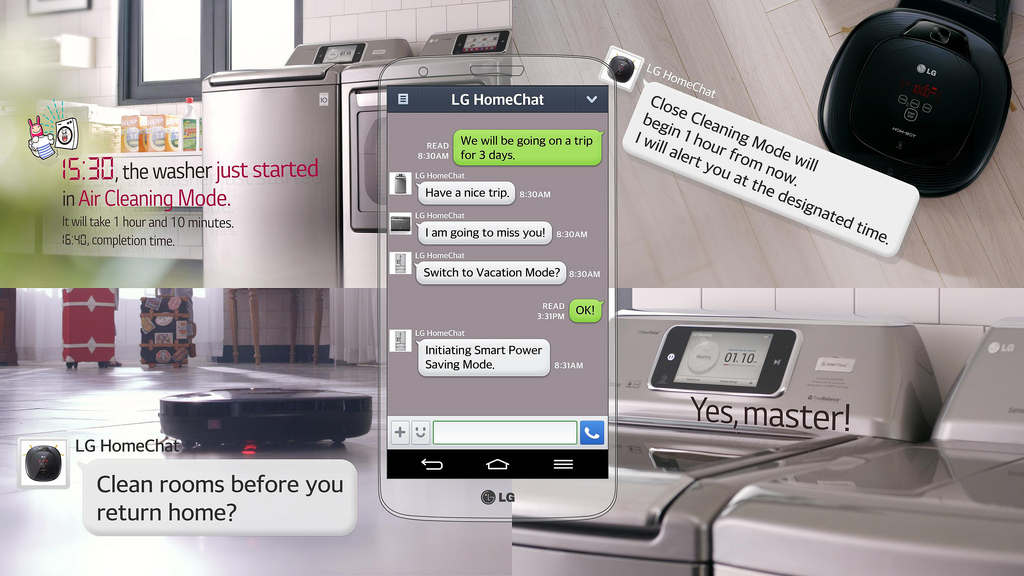 LG's new range of home appliances will use technologies that take advantage of Natural Language Processing(NLP) and will allow the users to communicate, control, monitor and share content via their smartphones. LG have collaborated with LINE application which is popular smartphone messaging application that is available across all the leading smartphone platforms.
LG are calling their interaction system as HomeChat service and LG are pressing the fact that there is no need to learn anything new in order to be able to use these new interaction tools. Some of the devices that will offer interaction include – Smart Refrigerator, Smart Washing Machine, Smart Vacuum Cleaner and Smart Ovens.
Some of the instances how the HomeChat service works is that in case you are going for a vacation and you can simply text "I am going on a vacation" to your refrigerator via HomeChat and it will respond asking "Should I convert to vacation mode?" Based on your response, necessary actions are automatically initiated. The aforementioned use case is just one example of how you can interact with the appliances at home.
LG are planning to show this off at CES 2014 from where we will be bringing you the live coverage. So stay tuned to FoneArena.