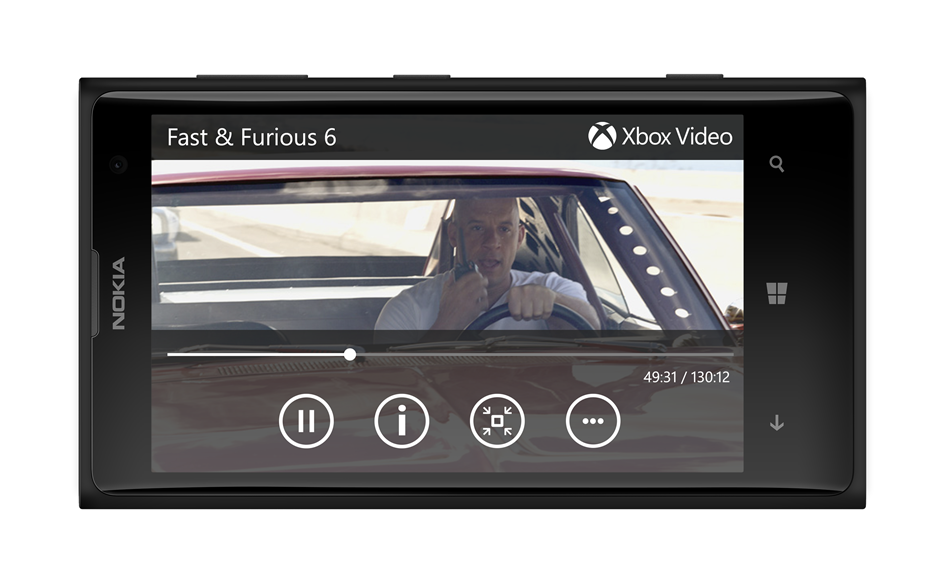 After a long wait, the Xbox team at Microsoft has finally released of Xbox Video and a separate Xbox Music app for Windows Phone 8. It's been long since the Zune brand was shunned and its services morphed into Xbox Music and Video, but Windows Phone 8 released only with Music functionality, and there was no video rentals or downloads. We now have two separate apps, one for Xbox Music which works only with a Music pass, much like a Spotify client and Xbox Video, which finally allows you to download or stream videos from the service full of TV shows and Movies. Currently it doesn't offer HD playback either, so that's a bummer, considering the fact that the Lumia 1520 just released and is perfect for watching movies. In the build up to separately updated apps for the platform moving forward to 8.1, these apps come as a much needed release for Windows Phone currently.
The Xbox Music preview app for Windows Phone looks and feels very similar to the default Music+Videos app, only differs in adding new features like on-device playlist support and finally the ability to add to your collection from the cloud. However, you need a Music Pass, which is available only in 22 markets, and that does not include India, bummer. We do hope they bring their services here soon, because it would be be a deal breaker for people buying Windows Phones as Apple and Google already offer their ecosystems here. May be they are waiting for a complete release in more markets for next year, we'll let you know if that becomes true.
Xbox Video too is available in a limited number of markets(excluding India), provides TV shows and Movies for streaming and download. This app seems to be a work in progress too, because it lacks HD playback or download, which is expected to roll out only in 2014.
Personal rant: The UI of both these apps are very familiar and are boring now because the one on Windows, the operating system from the same company has better apps for the same services. It's quite ridiculous to be honest, and I hope the folks at Windows Phone pick up their slack and show us something new, soon. It's getting really really boring. End of rant.
Download these apps here, if you are part of the launch markets
Source Xbox News