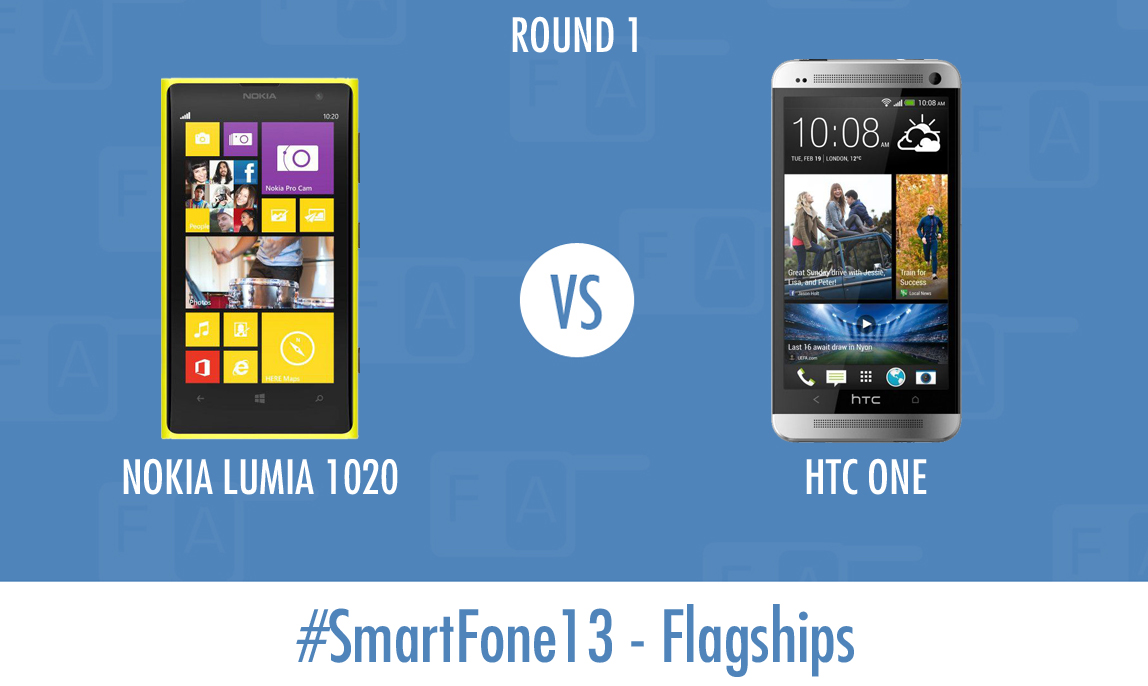 The last battle in the first round of the #SmartFone13 championship has arrived. This time it's a battle of the cameraphones Nokia Lumia 1020 and the HTC One. The Lumia 1020 slays the megapixel race with a 41 MP sensor while the HTC One goes against the race with a 4MP Ultrapixel sensor. But of course, these are proper high end smartphones too, both being respective flagships of Nokia and HTC. Poles apart in literally everything under the hood and even on the outside, which one would be your pick of the two? Cast your votes and make your favourites win.
Lets quickly go through the specifications of both these devices for a quick overview –
Nokia Lumia 1020 Specifications
4.5-inch (1280 × 768 pixels) Pure Motion HD+ AMOLED capacitive touch screen ClearBlack display
1.5 GHz dual-core Qualcomm Snapdragon processor
Windows Phone 8 OS
10.4 mm thick and weighs 158 grams
41MP camera with BSI sensor, Optical Image Stabilization (OIS), 6 lens optics, High resolution zoom 3x, Autofocus, Xenon Flash, LED for video, 1080p HD video recording at 30fps
Nokia Pro Camera app
1.2MP HD front-facing camera with wide angle lens
IHF speaker, 2 microphones, HD voice compliant, 3.5mm audio jack
LTE / 3G HSPA+ 41Mbps, WiFi 802.11 a/b/g/n, Bluetooth 3.0, GPS with Glonass, NFC
2GB RAM, 32GB internal memory
2000mAh battery, Wireless charging supported via option Charging Cover (CC-3066)
HTC One specifications
4.7-inch (1920 x 1080 pixels) Full HD display with 468ppi
1.7 GHz quad-core Qualcomm Snapdragon 600 processor
UltraPixel rear camera with LED Flash, BSI Sensor and Optical Image Stabilization ,F2.0 aperture and 28 mm lens
Full HD (1080p) video recording with HDR Video
Object Removal, Group Retouch, and Sequence Shot photos
2 MP HD front-facing camera
3.5 mm headset jack, Beats audio support
2 GB RAM, 32GB / 64GB internal memory
4G LTE / 3G HSPA+, WiFi 802.11 a/ac/b/g/n, Bluetooth 4.0 with aptX codec, DNLA, MHL, GPS with GLONASS
2300 mAh battery
9.9mm thick, Weighs 148g
Android 4.1 Jellybean with HTC BlinkFeed , HTC Zoe,HTC BoomSound
NFC
As you can see from above, the specifications on the Lumia 1020 are decidedly dated when compared to the HTC One that launched way back in February. The HTC One easily has a bigger and better screen and at a higher resolution. It also has a better processor – Snapdragon 600 Quad core while the Lumia 1020 sticks to a MSM8960. The build quality and design are high quality on the both, and are highly subjective according to one's preferences. Some might prefer metal while some others might prefer smooth polycarbonate plastic. The dimensions too are better on the HTC One, but the Lumia 1020 is not too bad either.
But when it comes to the camera, the Lumia 1020 totally massacres the HTC One. It is now widely known that Ultrapixel on the HTC One is unproven technology, because it doesn't provide tangible advantages when other sensors with smaller pixel sizes can do better. The Lumia 1020 not only has abundance of pixels to wok with, it provides the cleanest 5 MP images thanks to oversampling, and with OIS, it also provides some of the best low light options in mobile photography, not to mention long exposure too. So, in terms of camera, the Lumia 1020 is obviously better. Don't believe us? Watch the video below, and find the blind test results past the video.
httpv://www.youtube.com/watch?v=s9wVkli27-U
Check our Blind Test results featuring the Lumia 1020 and the HTC One
But as we have come to know by now, repeatedly, the software and the ecosystem on both the devices are subject to personal tastes but even then, it's not hard to see that Windows Phone is still behind Android in a number of ways. While the OS, the features and the apps are still growing and improving, Android still dominates and that's one big factor when considering a purchase, no doubt about that. Sure, people have started preferring Windows Phone over Android, as signaled by the sales of the low cost Lumia 520 but there is still a long way to go. So, have you decided on your vote yet? Go ahead –
As expected the Lumia 1020 turns out as the winner in the contest!
Check out the overall standings and other polls here