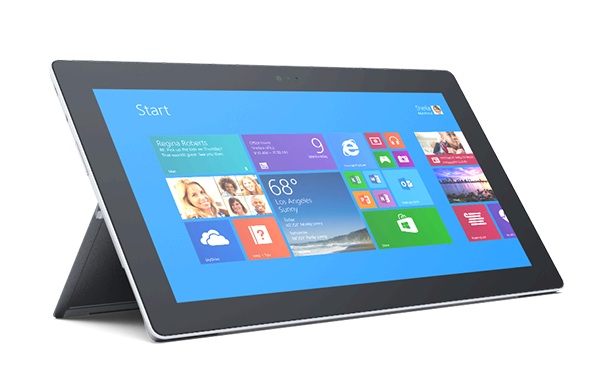 Microsoft has announced its refresh of the Surface devices today, with the new Surface 2, the Surface Pro 2 and a whole lot of updated accessories. The Surface 2 is the updated version of Surface RT, running on the much criticized Windows RT platform. Last year, it was meant as one of the first entries into the ARM territory for Microsoft, and this year, without much change in the strategy, Microsoft has done a Spec bump to the older version. The new Surface 2 runs on a Tegra 4 Quad Core processor, a full HD Clear Type 1080p screen, a two-step kickstand for better usage on the lap and even a second colour option in Silver. They also claim that it is thinner and lighter than the original Surface.
Read about the Surface Pro 2 here

The Surface 2 is a much needed upgrade in terms of specifications as the original Surface with its Tegra 3 processor was a bit laggy and probably overburdened by Windows RT. This time though, Tegra 4 is faster and Windows RT 8.1 too has been optimized for better performance, better metro app snapping and more. It now sports a USB 3.0 port instead of a USB 2.0 on the older Surface and an extra Video out port too, which was not present on the Surface RT. The Touch and Type covers have also been improved but we'll leave that for another post. Another improvement from the original is the 3.5 megapixel front and rear facing cameras, which are said to be considerably better than the old ones.
Along with all the hardware upgrades, Microsoft plans to include free 200GB of SkyDrive storage for the first two years for any Surface 2 buyer, and adding to that, 1 year of Unlimited international calling to Landlines in 60 countries and free Skype Wifi. Overall the package seems worth it, but the price is again a bit on the higher side. It is now at $449 for the base 32GB(16GB available storage) version with the Touch and Type Covers costing extra. Highlights –
10.6 inch full HD 1080p Clear Type display
Thinner and Lighter build
3MP Front facing camera with 1/3″ sensor and 5 MP Rear facing camera
Tegra 4 Quad Core Processor
10 Hour battery life
USB 3.0, BT 4.0, Video out and micro SD card slot(up to 64 GB)
$449 for the base version
Windows RT 8.1 with Office Home Student 2013, Outlook 2013 RT
The device is slated to be available in 21 launch markets on the 22nd of October. Pre-order starts tomorrow.