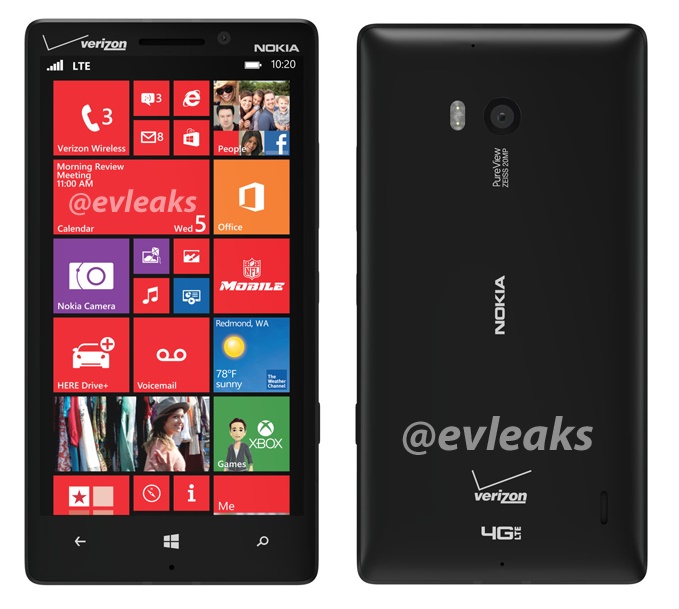 What you see above is a leaked press image of the Nokia Lumia 929, a device heading to the Verizon network in USA, exclusively. The image comes via @evleaks who has a good track record of getting it right. So, assuming the name is right, the Lumia 929 sports a 20 Megapixel PureView Camera on its back, which is purportedly the same one that is coming up on the Lumia 1520 too. The device also looks to have a polycarbonate matte body, which looks similar to the one on the Lumia 720.
With three columns of medium sized tiles, it reiterates the fact that it is going to run on Windows Phone 8 with GDR3. The cluttered mess of the UI is even more pronounced since the screen looks visibly smaller than the Lumia 1520's press image. We are thinking around 5 inches would be a fair estimate. It also raises the question of a 1080p resolution, as GDR3 brings support for it, finally.
We have no other details of the device except that it will come in Black, White and Red. If the Lumia 928 as a 920 variant is to be considered, the Lumia 929 will also be similar with one of its USPs being the camera. The 20MP era has arrived and we think Nokia too will adopt the 1/2.3″ 20MP sensors made by Sony. We expect this trend to catch on with several other manufacturers soon. That said, we barely have enough details to whet your thirst for information, so stay tuned as we try to get information about the Lumia 929 when possible.
Source Twitter(evleaks)