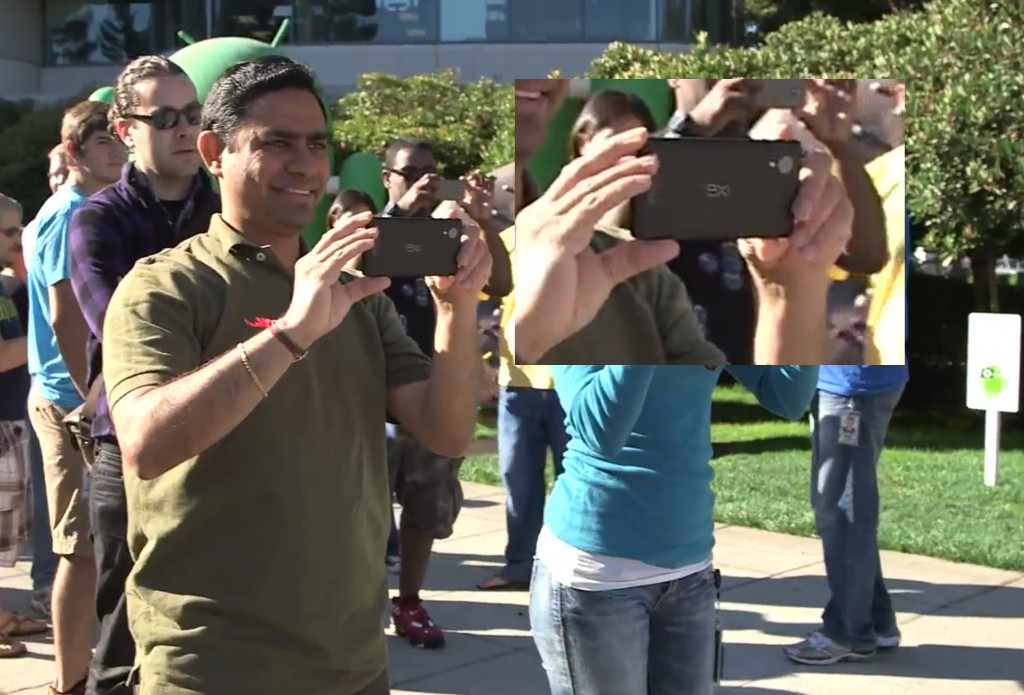 Having announced the Google KitKat partnership for the next version of Android, the company released a video showing a celebratory installation of the new mascot in GooglePlex. This video might have looked normal at first, but keen eyes spotted a weird new device with the Nexus branding on the back. Could this be the unannounced Google Nexus 5? Also, if the logo is inspected at close, it looks to be made by LG. Unless our eyes fool us, this might actually be the upcoming Nexus 5 phone from Google, made by LG.
If you look closely at the image above, it looks a lot like the Nexus 7 2013. Especially with a familiar horizontal Nexus branding and a soft touch rubbery back, at least from the looks of it. The device also looks a bit large when in the employee's hands, which indicates that the next Nexus will breach the 5 inch display category. The camera sensor also looks bigger, pointing to a larger 13 Megapixel sensor perhaps?
The Nexus 4 price drop was a big indicator of Google prepping for the next Nexus and to know that it's already in testing is a good thing. The Nexus 5 should be available real soon, now that Google has unveiled the name and branding of the new Android version – 4.4 KitKat. If you are wondering what happened to the video, it was taken down, adding more credence to this supposedly accidental leak. I know you would still want to watch it though, so here is a screencap video from one of the YouTubers –
httpv://www.youtube.com/watch?v=iuFMQ3b1hgw
That said, what are your expectations for the new Nexus? 1080p display? Snapdragon 800? Lets us know in the comments section below.
via TheVerge