When the Google Nexus 7 tablet went on sale last week , Google indicated that it would ship the orders by April 5th.  But looks like the company decided to ship them out earlier than expected. A few readers have already mailed us that they have already received Fedex tracking numbers for the shipment and 1 reader actually got the device delivered at his home as you can see from the photo below.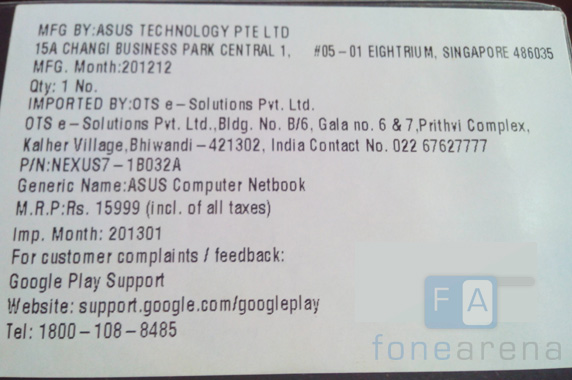 We had reported previously that the units are being shipped from Singapore. Looks like the units are being imported by a distributor in bulk and then shipped within India using Fedex. Interesting the Nexus 7 has been imported in the month of January 2013 itself ahead of the official announcement. The company importing the devices is OTS E-Solutions Pvt. Ltd which also owns GadgetsGuru.com. Seems like the devices were ready to be shipped when it went live on the Play Store.
Albeit a bit pricey at Rs.15999 including shipping and any applicable duties, the 16GB WiFi Nexus 7 is the first Nexus device to be sold directly by Google in India. It is the only device apart from the Nexus 4 and Nexus 10 to run on Android 4.2.2. globally. May be we will soon get the Nexus 4 too ?
It will be interested to find out how warranty issues are handled by Asus in India for both Google Play India purchases and international purchases.