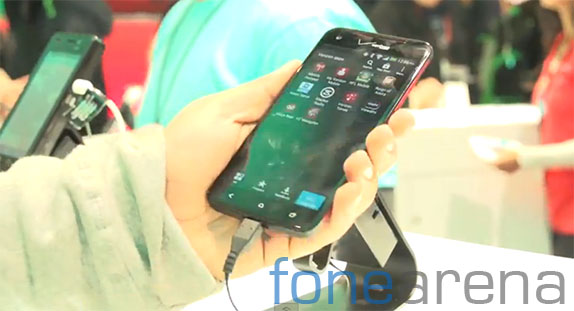 The HTC Droid DNA is one of the world's first phones, and the first phone in the US to come with a full HD 1080p screen. The Droid DNA is exclusive to Verizon Wireless and since the display is so special, we decided to take a look at it, at the International CES 2013. We had some hands on time with the device and here's the video –
httpv://www.youtube.com/watch?v=jwJtZoOFW9s
The Droid DNA is currently HTC's flagship device and rumours point a certain HTC M7 that might sport the same awesome SLCD3 full HD screen just like the DNA. The Droid DNA is also known as the HTC Butterfly elsewhere and it sports the same specs as the Droid DNA. Initially launched in Japan, the Butterfly is waterproof, just like the Droid DNA, with its port flaps and soft touch build quality that makes the device nice for grip.
The display, as we said, is the most important aspect of this device. It is a full HD 1920×1080 resolution screen at 5 inches and has a whopping 440 PPI pixel density. Not only that, the display nicely renders the colours with great accuracy and the blacks are deep. The laminated screen is a joy to behold and has good outdoor visibility too.
The hardware is powered by a Qualcomm Snapdragon S4 Pro chipset with a quad core 1.5 GHz processor. On the software front, much like the One X and the One X+, the Droid DNA runs on Android 4.1.1 with Sense 4+. The UI scales well and the icons look absolutely stunning at the 1080p resolution. For a device with a 5 inch screen, it is not that intimidatingly big, and at 140 grams, the weight distribution along the device at length helps in better ergonomics.
Check out our HTC Butterfly review, in case you are looking for more details about this device.
Bharadwaj contributed to this report with inputs from Shilpa and Parth.