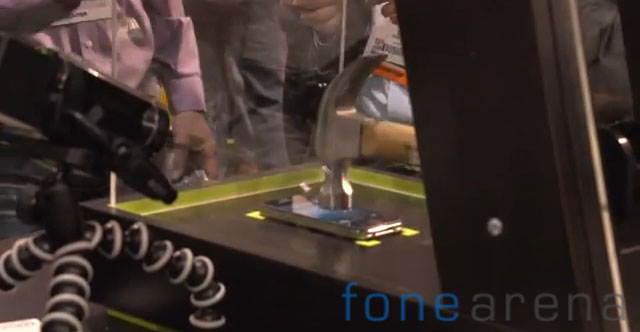 Amortech protection were at the International CES 2013 demoing their screen protector product, with a hammer. Yes, you read that right, they were hammering iPhones at their booth, to show how strong their Armortech screen protector is. We were there, and here is a video demo of an iPhone getting hammered with the screen protector On.
httpv://www.youtube.com/watch?v=AYb_1Qcd_7s
Crazy, right? Armortech mentions that their screen protectors are enabled by their "Force field" technology, which basically means that they have a polyethene (unbreakable plastic) coating over their protectors which thus enable extreme protection for the screen. In our video demo, even after quite a few hammerings, we could see cracks only on the screen protector.
These screen protectors will be perfect for the iPhones and other phones that comes with brittle glass displays and backings. They will be retailing for around 39$ to 69$ which is quite hefty for a screen protector, but unlike other screen protectors which protect your screens from scratches, we'd argue that this definitely does more, in actually saving the service cost of repairing your broken screen.
You can find more information about the Armortech screen protector here.
Bharadwaj contributed to this report, with inputs from Shilpa and Parth.