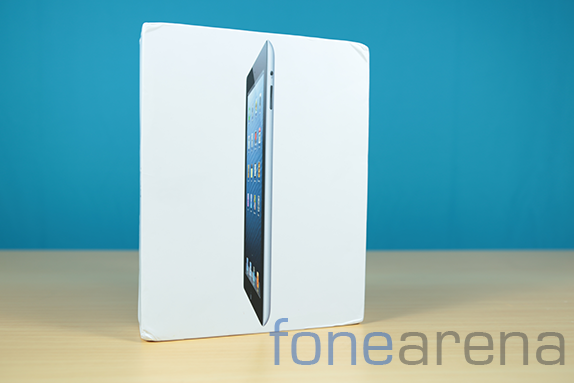 The Apple iPad 4 was a launch that was completely unprecedented. It was so weird because of one main reason, it strayed from the yearly refresh cycle that is usually religiously followed by Apple. The iPad 4th generation was an immediate successor and unlike other successors, the predecessor was immediately taken out of the shelves to make way for the new one. After causing some outrage in the stateside, it has now landed in our labs for extensive testing. So, lets get to the ceremonious unboxing of the new iPad 4, in our case, the 64 GB WiFi LTE version.
Without further ado, here's the unboxing video of the iPad 4, with a quick demo of the very little changes that are associated with it.
httpv://www.youtube.com/watch?v=GGw8-6r7ygg
Box contents –
Apple iPad
USB power adaptor
Lightning to USB cable
SIM ejector tool
Information booklets
As you can see above in the video, the only differences between the iPad 3 and the iPad 4 are the lightning port, which is becoming the standard on all Apple products now, and of course the new A6X processor, which promises better performance over the iPad 3, which suffered a loss of frames and textures when it came to gaming.
And since we got the WiFi+LTE version, the micro SIM slot was present, along with the SIM ejector tool in the small card pouch inside the box. Other than this, the iPad 4, currently known on Apple's website as "iPad with retina display" remains the same as the iPad 3 in every way. This was a big "screw you" to early adopters of the iPad 3, but with replacements in the US, Apple managed to convince them. And then, since the whole inventory of the iPad 3 was replaced with the iPad 4, the damage was pretty limited.
With that said, look forward to our full review soon, where we extensively test the new A6X processor see if the iPad 4 is really a worthy upgrade over the iPad 3. We'll also see which iPad is better, the mini or the one with the retina display. Lots of questions will be answered, so look forward and stay tuned!
Unboxing gallery –