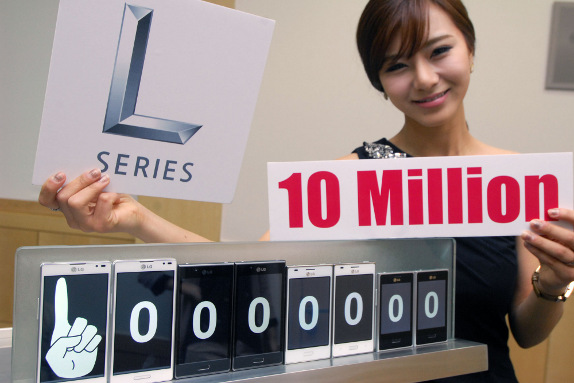 LG has announced that they have sold over 10 million units of Optimus L-Series smartphones globally. The Optimus L-Series Smartphones include, Optimus L3 that has a 3.2-inch display, Optimus L5 with a 4.0-inch (320×480 pixels), Optimus L7 with a 4.3 inch (480 x 800 pixels ) display and the Optimus L9 that has a 4.7-inch qHD (960 x 540 pixels) IPS display. LG announced the Optimus L3, L5 and L7 at MWC 2012 that was launched in India in May starting from the Optimus L3. It took 9 months for LG to achieve this feat starting from the Optimus L3 that went of sale in Europe in March.
LG has also introduced Optimus L3 Dual and the Optimus L5 Dual with Dual SIM support earlier this year. The LG Optimus L9 was the latest L-Series smartphone to launch in India. LG also brought QuickMemo feature and QTranslator for the Optimus L-Series smartphones.
All the L-Series Smartphones have a unique design that comprises of 5 aesthetic elements: Modern Square Style for a comfortable grip, Floating Mass Technology for a slimmer look  similar to the LG PRADA 3.0 phone, Seamless Layout for a more intuitive arrangement of keys, Harmonized Design Contrast utilizing metallic accents and Sensuous Slim Shape that draws one's gaze to the unique form factor.
LG currently sells the Optimus L-Series Smartphones in over 50 countries worldwide.