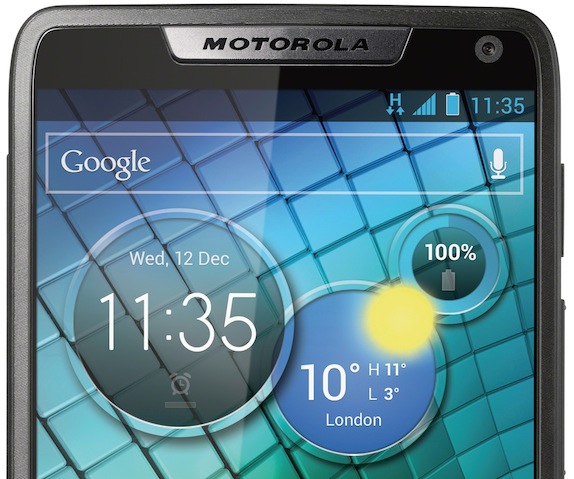 Motorola has just unveiled the RAZR i this morning in the UK. It's essentially the RAZR M that was announced earlier this month, but with an Intel chip instead of a Qualcomm chip. What you're looking at above is a phone with a 4.3 inch qHD display, what we assume to be 1 GB of RAM, an Intel Atom with hyper-threading enabled that should be capable of delivering up to 2 GHz of performance, an 8 megapixel camera that's supposedly very fast, and it runs Android 4.0 Ice Cream Sandwich. It'll get Android 4.1 Jelly Bean, but we don't exactly know when that's going to happen.
httpv://youtu.be/EC6X9azWHuw
How much is it going to cost? The pricing, sadly, hasn't been unveiled. When will you be able to buy it? Motorola's press release says next month if you're in Europe. Should you buy it? That's a hard question to answer. Motorola's market share isn't what it once was, meaning if you own a Motorola phone these days you're kind of special. To own a Motorola phone that has an Intel chip inside … you must really want to belong to a special club.
It's too early to say whether or not Intel's efforts to enter the mobile space will succeed, and we certainly wish them all the best, but right now you're better off going with a phone from a larger brand like Samsung. And make sure that Samsung devices runs either a Samsung made chip or a Qualcomm chip.
It's not that Intel is "bad", it's just that that they're untested. When you don't have experience, you have to prove yourself. That's just how life works. How do you think customers expecting game X, Y, or Z to work on their RAZR i feel after said game fails to launch?
Exactly.