Just a few weeks back we came to know that HTC will be partnering with Beats by Dr. Dre, and if you were wondering which will be the first device to come out with the new beats technology then we have got your answer. The first device to come out with Beats would be a special edition of HTC Sensation which will be called as "HTC Sensation Special Edition 2", besides using the Beats technology, this device will also have other major upgrades, read on.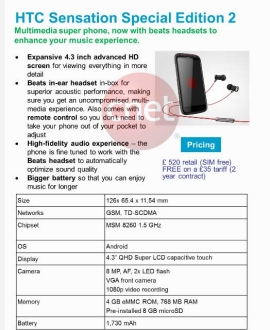 Special edition of the HTC Sensation will feature a 1.5 GHz dual core processor (Qualcomm 8260 chipset) which will be an upgrade to the 1.2 GHz dual core used in the older Sensation, it is the same chipset used in the current sensation but clocked to 1.5GHz which will be much faster. It will also have a 4 Gb (2 GB in current sensation) of internal memory and a 1730 mAh (1520 mAh in current sensation) battery, rest all the features like the display size camera remains the same.
We have no idea about the release date of this device, but as per cnet it will cost $ 847. This device does look promising but the cost seems to be too high. The sales of this device will depend on when it is released. As we have the Nexus Prime set to be released next month, the Sensation 2 will have better sales if it is sold before Nexus Prime or iPhone 5 comes to the market.
Source: CNET