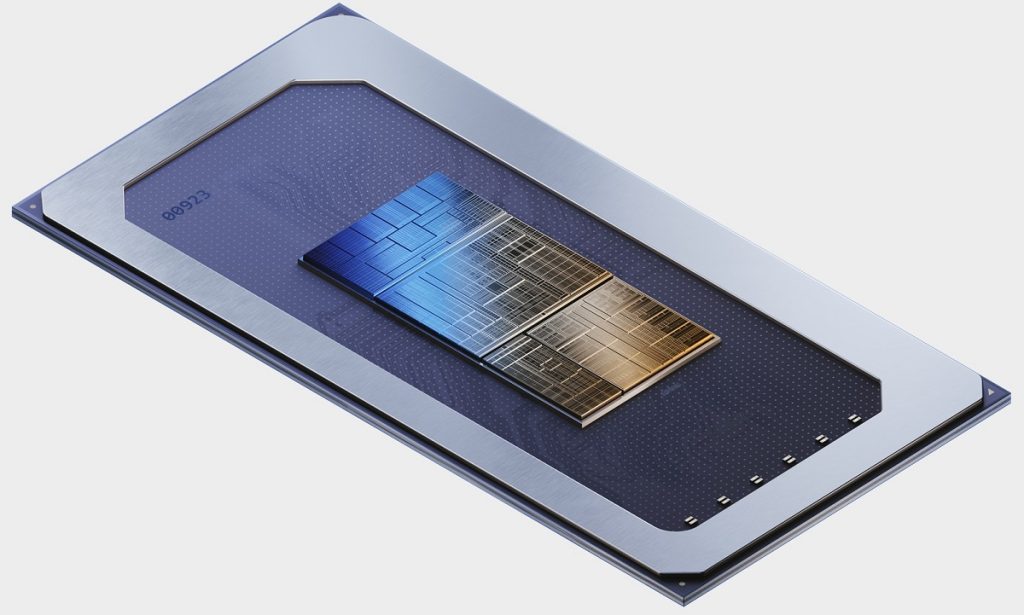 Intel recently hosted its third annual Innovation Event, where it unveiled the upcoming Meteor Lake client platform and introduced various technologies aimed at democratizing artificial intelligence (AI) across different workloads, from client devices to edge, network, and cloud systems.
Silicon Innovation Progress
Intel is making strides in silicon innovation with its "five-nodes-in-four-years" program. Currently, Intel 7 is in high-volume production, Intel 4 is manufacturing-ready, and Intel 3 is on track for year-end availability.
At the event, Intel showcased an Intel 20A wafer featuring test chips for the Arrow Lake processor, slated for a 2024 release in the client computing market.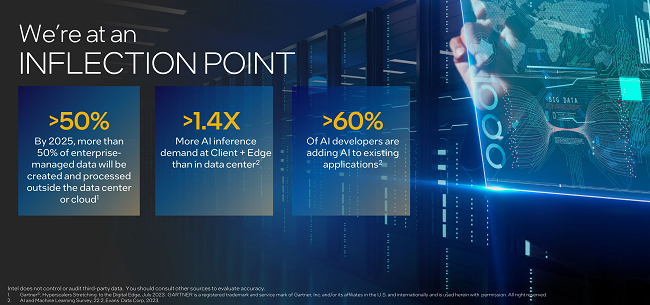 Intel 20A introduces PowerVia and RibbonFET, enhancing power delivery and transistor design. Intel 18A, also incorporating these technologies, is set for manufacturing readiness in the latter half of 2024.
Innovations in Materials and Packaging
Intel introduced glass substrates, which will enable further transistor scaling for data-intensive AI workloads, extending Moore's Law beyond 2030.
Additionally, Intel presented a test chip package utilizing Universal Chiplet Interconnect Express (UCIe), a standard allowing chiplets from various vendors to collaborate, fostering innovation in AI workloads. Over 120 companies support this open specification.
The Transformation of Meteor Lake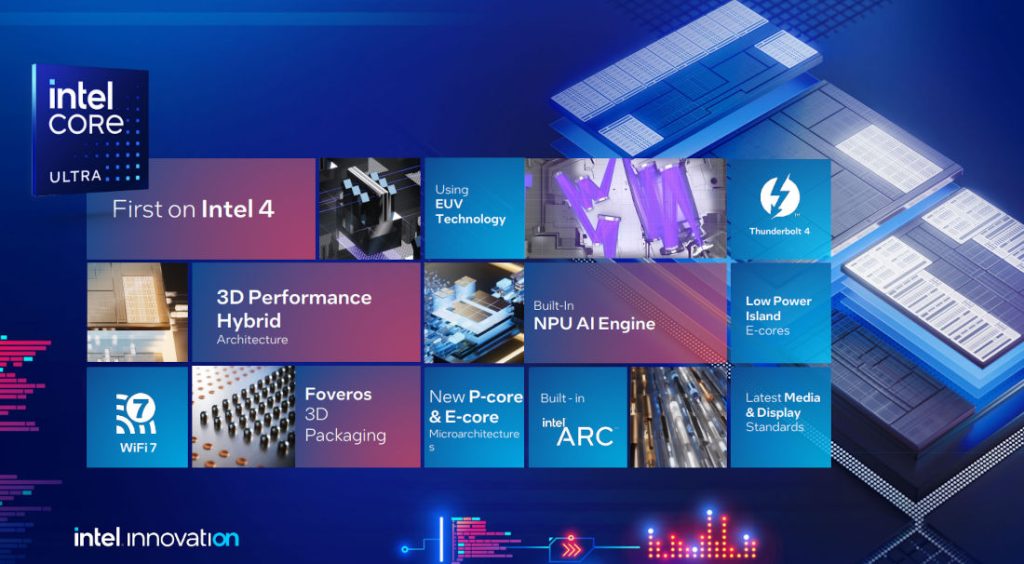 Meteor Lake marks a significant shift for Intel, moving away from the Intel 7 node to Foveros 3D packaging with EUV lithography for the upcoming client mobile platform.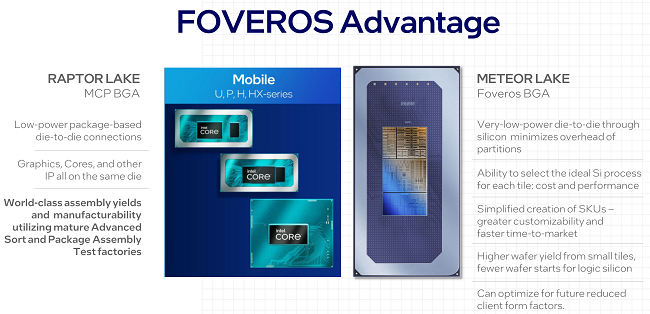 Meteor Lake adopts a disaggregated chiplet architecture, breaking down CPU functions into four tiles: compute, graphics, SoC, and I/O. New additions include LP E-cores for power-efficient tasks and a Neural Processing Unit (NPU) for AI workloads.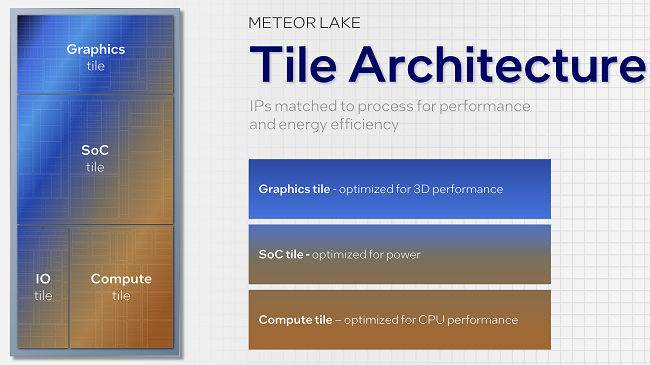 AI Performance Results and New Developments
Intel's dedication to AI is evident in the recent MLPerf AI inference performance results. These results highlight the capabilities of Intel's Gaudi2 accelerator in handling complex AI tasks.
A new AI supercomputer, powered by Intel Xeon processors and 4,000 Intel Gaudi2 AI hardware accelerators, is in the works, with Stability AI as the primary customer.
Preview of Next-Gen Intel Xeon Processors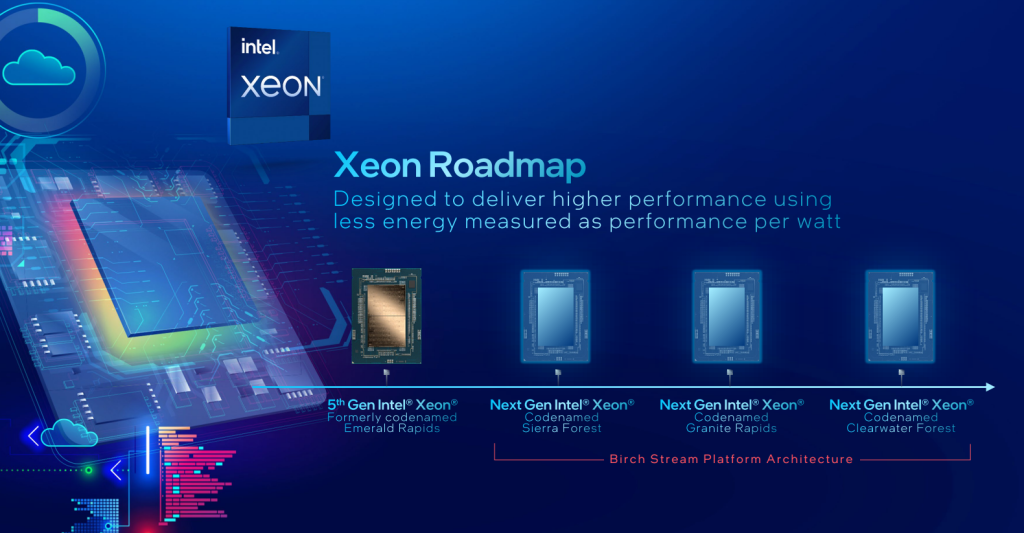 Intel gave a sneak peek into the next generation of Xeon processors. The 5th Gen Intel Xeon processors, launching on Dec. 14, promise performance enhancements and faster memory while maintaining the same power consumption.
The first half of 2024 will see the arrival of Sierra Forest, offering 2.5 times better rack density and 2.4 times higher performance per watt over the 4th Gen Xeon. Following closely will be Granite Rapids, providing two to three times better AI performance compared to the 4th Gen Xeon.
The next-gen E-core Xeon, code-named Clearwater Forest, will be introduced in 2025, utilizing the Intel 18A process node.
Silicon Power Management and Scalability
Meteor Lake utilizes Intel 4 for the compute tile and TSMC N5 for the graphics tile. Disaggregation allows each tile to function independently, enhancing power efficiency and performance.
The hierarchical power management system coordinates power controllers within each tile and optimizes for different workloads, including LP E-cores for lighter tasks.
SoC Tile and Bandwidth Scalability
The SoC tile, manufactured on TSMC N6, introduces a Network-on-Chip (NOC) to enhance bandwidth efficiency. LP E-cores within this tile are designed for efficiency and feature granular voltage control. Wi-Fi 7 and Bluetooth 5.4 support provide advanced wireless connectivity.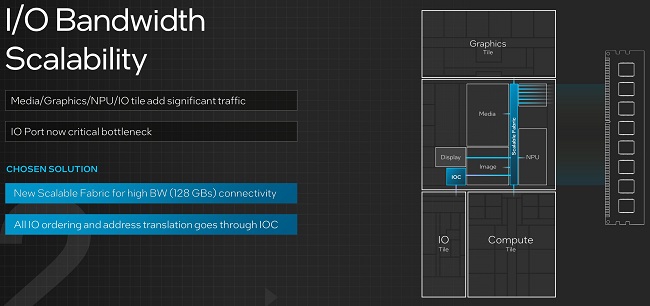 Other notable improvements includes:
Intel Silicon Security Engine (ISSE): Meteor Lake focuses on security with the Intel Silicon Security Engine (ISSE), enhancing platform security and mitigating vulnerabilities.
Neural Processing Unit (NPU): Meteor Lake integrates a dedicated NPU to enable AI capabilities, offering flexibility and compatibility with standardized program interfaces.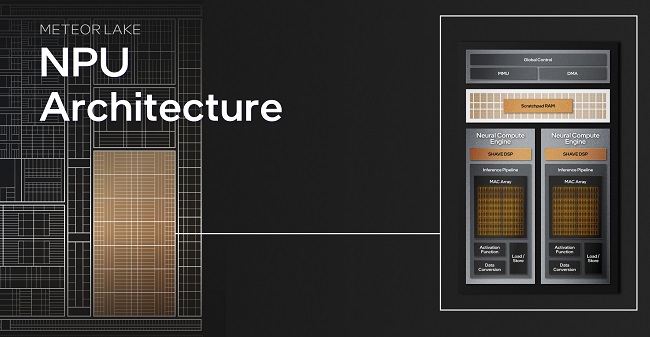 Graphics Transformation: Intel's new Xe-LPG graphics architecture, separated from the compute tile, promises discrete-level performance with improved efficiency. It features 8 Xe graphics cores, 128 vector engines, and dedicated Ray Tracing Units (RTU) for enhanced graphics capabilities.
Higher Clock Frequencies: Intel's Foveros 3D packaging allows for encoding, decoding, and video playback without powering up the graphics tile, leading to power savings.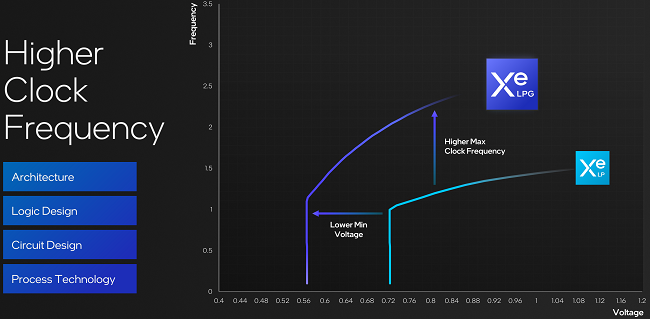 Availability
Meteor Lake is set to debut in mobile devices, and Intel introduced a new Core naming scheme for products. The first high-end Meteor Lake SKU with AI capabilities is expected to launch on December 14th.
Speaking at the event, Pat Gelsinger, Intel CEO, said:
AI signifies a pivotal transformation, ushering in a new phase of worldwide growth where computing plays an even more crucial role in shaping a brighter future for everyone. This presents developers with enormous opportunities to make societal and business impacts, to explore the limits of the feasible, to devise solutions for the most pressing global issues, and to enhance the quality of life for every individual on earth.