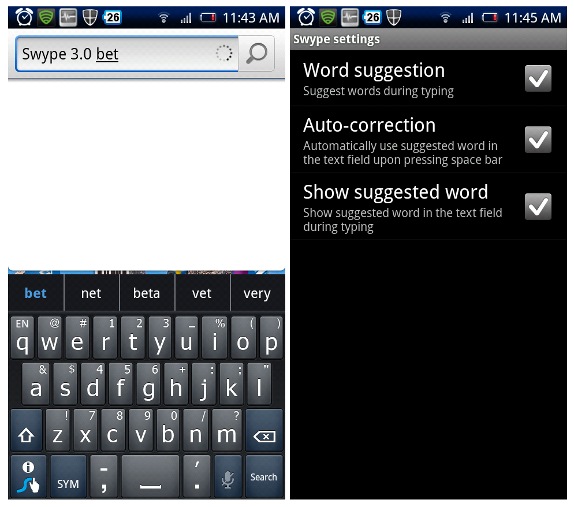 Swype, which is one of the popular text input for the Android platform, has been updated to version 3.0. This version brings most awaited tap correction feature and horizontal word choice list. This version also brings Honeycomb support.
Features of Swype 3.0 Beta
The tap correction feature lets you swpe or type the words without changing any settings.
There are options like word suggestions, show word suggestions and auto correction while typing, that could be enabled from the options menu.
Horizontal word choice list is available that displays more word suggestions, instead of vertical popup word choice option.
This version also supports Android Honeycomb tablets with the new features like resizeable and movable keyboard.
This version adds support for new Android 2.3 devices and comes with some licensing bug fixes.
The beta version would not work if your phone came pre-installed with Swype. This version also comes with minor compatibility updates, bug fixes, behavior changes, and feature updates that makes it faster and smoother than the earlier version.
Check out the demo of Swype 3.0 Beta from the Swype YouTube channel:
httpv://www.youtube.com/watch?v=b2NN8-aoNEI
If you are new to Swype, register with your e-mail id and the download link would be sent to you by e-mail. Open the link from your phone and download the Swype installer, install it and log into it with your details. Select the language and download Swype.
If you already use Swype, uninstall the current version of Swype (not the installer) and use the installer to log in and download the new version.