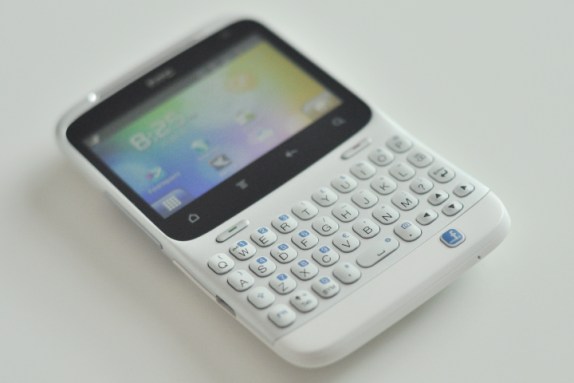 HTC caused a stir at this year's MWC when they announced the ChaCha and Salsa, two Android devices with their very own Facebook button. Unofficially dubbed the 'Facebook phones', the ChaCha allows you to easily update your Facebook status with a simple press of a button.
The HTC ChaCha is a mid-range QWERTY smartphone running on Google Android. Like the HTC Salsa, the ChaCha has a dedicated Facebook button that makes posting updates and pictures onto your Facebook profile easier. Instead of opening the Facebook application, pressing the button will bring you to a screen that allows you to compose your update and attach a picture. Pressing down the button will also allow you to check-in to Facebook ala Foursquare.
HTC recently upgraded the ChaCha's ARM CPU clockspeed from 600MHz to 800MHz ARM. With 512MB RAM (plenty for a device of this range) and the latest Android Gingerbread 2.3.3, the ChaCha feels quick. It also comes with an accelerometer, digital compass, proximity sensor, ambient light sensor, WiFi 802.11b/g/n, Bluetooth 3.0, GPS receiver and dual band HSDPA/HSUPA. A 2GB microSD memory card is bundled together, though the device can easily take a 32GB microSD card.
While the 2.6″ LCD capacitive touchscreen display may be small, the HVGA resolution is decent. Still the screen here has already been outclassed by the recently announced Nokia E6 and Blackberry 9900, both of which offers 640×480 resolution. You will find a VGA front camera on the top of the display and a 5MP camera with auto-focus and LED flash on the back. Picture quality is decent as long as there are plenty of available light.
The device as a whole is well constructed with liberal amount of metal used on the outer shell, and at 124g, the ChaCha is reasonably light. The QWERTY keyboards are plastic in nature and provides a good amount of key travel and tactile feedback. Four directional keys can be found on the bottom right of the keyboard though I personally prefer a d-pad be placed below the screen. Behind you will find a 1250mAh battery – a decent amount for a device with such a small display, and the none-hot swappable sim and microSD card slots.
Like all of HTC's Android smartphones, the HTC ChaCha comes preloaded with HTC Sense and an array of other HTC applications. A new lock screen similar to the one on the HTC Sensation is included. It offers a quick way on unlocking the screen by dragging application icons onto the unlock zone to simultaneously unlock the device and launch the application. The Sense installed here is version is 2.1 for Messenger and is optimised for landscape mode.