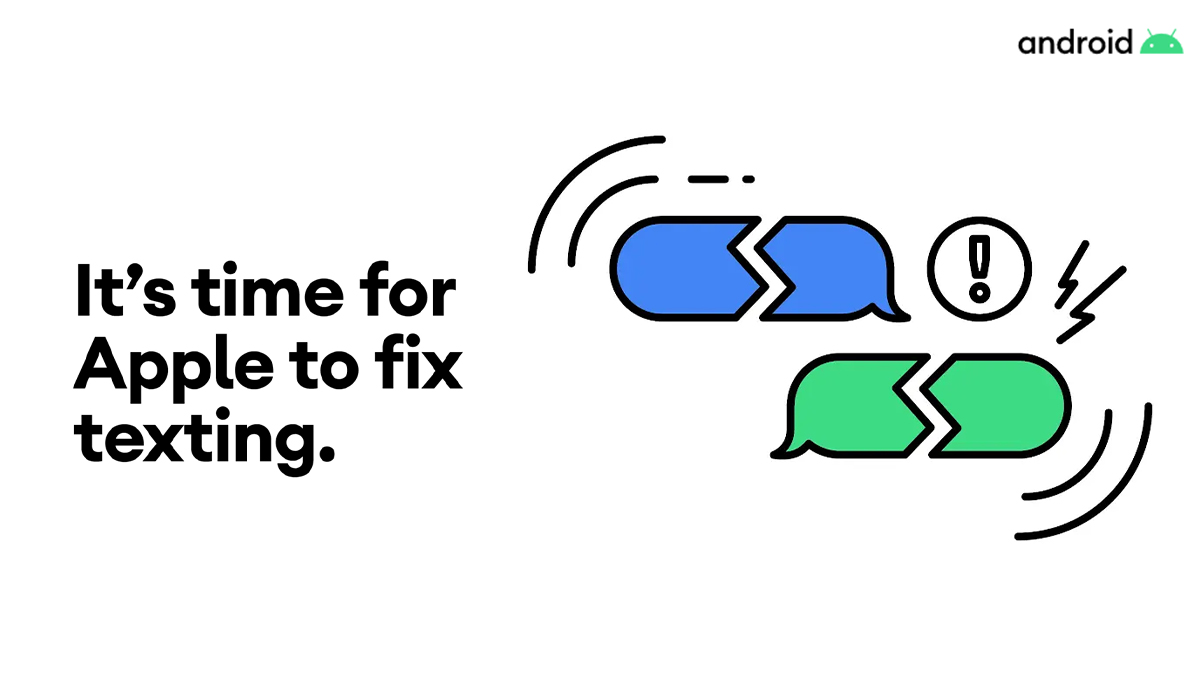 In its most recent attempt to persuade Apple to include RCS in iMessage, Google launched a campaign today with the tag line #GetTheMessage. Google is targeting Apple for all issues with Android-to-iPhone communications via YouTube, social media, and a special space on the Android website.
To remember that RCS messaging replaces SMS on Android phones and enables larger and better group chats, Wi-Fi sending and receiving, read receipts, and typing indicators. It's also encrypting individual communications and soon group chats.
We learn how Apple could correct the blue vs. green bubble nonsense that people use to harass others in the Tweet that Google shared with this "Get The Message" concept. It also talks about how Apple is still using the old SMS protocol, which is the default setting for Android messages sent to iPhones through iMessage. It also talks about the possibility of universal encryption and a number of other cutting-edge features that iOS and Android users could use together if Apple adopted RCS.
Texting a friend with a different phone than you should be no problem… Right? @Apple? #GetTheMessage pic.twitter.com/Qa1TDkmUSK

— Android (@Android) August 9, 2022
Google further explains what do iPhone users experience?
Because iPhones still use SMS/MMS, photos and videos are frequently small and hazy.
You cannot leave the chat, even when you want to, because the iPhone's group chat software is antiquated when used with Android.
If you don't have cell coverage, texts from iPhones can sometimes be transmitted to Android devices over Wi-Fi, leaving your messages unread and your conversations unfinished.
SMS and MMS do not support end-to-end encryption, so your messages are not as safe as they could be.
Because they use white lettering on a vivid green background, iPhones make it harder for users of Android smartphones to read texts.
Without read receipts and typing indicators, you can't tell if your Android friends got your SMS or if they are responding.
Google describes "GetTheMessage" on the Android.com homepage. They say "there's a simple solution" for both Android and iPhones and that Apple is damaging text messaging on purpose by allowing outdated tech. Apple created many of RCS' features long before Google did. After repeated communications failures, Google and Android are playing catch-up.
The company blames Apple for messaging difficulties when it urges consumers to use a new client every couple of years. Google also suggests "Signal Messenger and WhatsApp" as other options for messaging that don't break the experience for users.
On the Android website, Google said:
Apple should fix what's broken. The bad experience you get when texting Android users is created by Apple. But they can fix it by switching from SMS/MMS to RCS, the modern industry standard. And everyone's experience would be better.