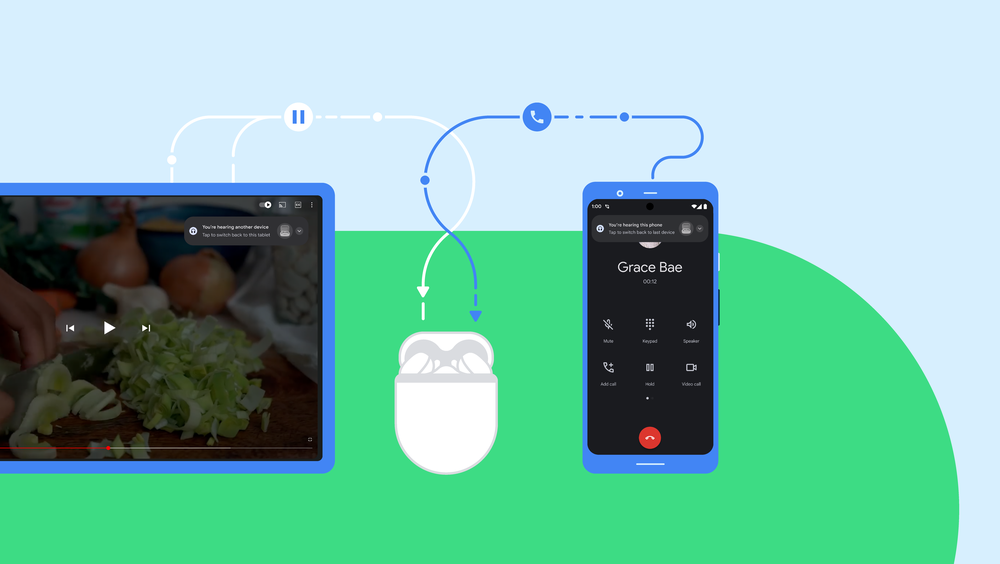 We frequently utilize Google's Fast Pair on Android devices so far because it is a beneficial function. Even though it's still a menace, it makes pairing and switching between phones and tablets a little easier. In an effort to remedy that, Google is announcing audio switching, a brand-new technology that will interoperate with the currently available Fast Pair on the Pixel Buds Pro and further devices in the future. It was first announced at Google I/O 2022.
And now, Google has revealed that the Pixel Buds Pro will be able to switch between devices automatically without the use of settings menus, which is one of the most useful new abilities of the earbuds. With the launch of the Pixel Buds Pro, Google is also introducing new technology that is intended to completely eliminate that problem. In essence, the company's new Android audio switching technology will take over the process of switching audio from one device to another. The Pixel Buds Pro will instantly switch outputs and select your tablet when an important sound arrives, even when you're listening on your Android device.
It's possible that Google is attempting to prevent such consumer complaints by making it very simple to switch audio back to the original device. Google stated in a blog post that you have complete control over the experience with Android, and that you can quickly switch the music back to the device you were listening to it on by tapping on the notification that shows.
Bluetooth multipoint differs from audio switching in that earbuds and headphones that enable it can simultaneously connect to two audio sources, negating the requirement for switching. If you're using different Android devices, at least, Google seems to believe that audio switching will improve the Pixel Buds Pro's ability to recognize the audio you want to hear. Google Pixel Buds Pro has been in India as well, and it will go on sale from July 28th.
Audio Switching roll out
This week, Google will begin to roll out Bluetooth multipoint audio switching for the new Pixel Buds Pro between Android phones and tablets.
Some Sony and JBL headphones will also get an update to their audio switching technology in the coming weeks.
Additionally, you can connect up to two Bluetooth devices simultaneously using audio-switching headphones that support Bluetooth multipoint. Furthermore, for a better audio experience across multiple devices, make sure the toggles for Bluetooth multipoint as well as audio switching are turned on in your "Device details" settings if your headphones support both features.
According to the blog post by Angela Hsiao, Product Manager, Multi-Device Experiences, Google, said
We are introducing our audio switching technology that reduces frustration and gives you more control over your audio experience to help you switch between devices throughout the day. Audio switching is available between Android devices to start, with plans to expand to more of your favorite platforms and devices over time.