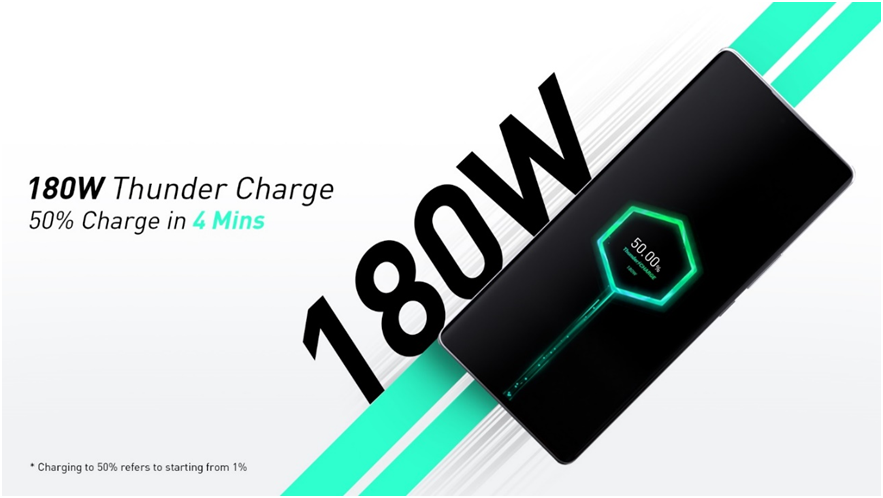 Infinix has unveiled the superfast 180W Thunder Charge Technology, which will be available on select Infinix flagship phones announced in the second half of this year. The 4500mAh battery can be charged to 50% capacity in just four minutes. This is a faster and safer way to charge an advanced smart device.
Industry-leading 180W Charging Technology
Ultra-fast charging has never been as ubiquitous as it is presently, and with a safer means of charging at a greater voltage rate, the feature has become more ubiquitous in mid-range smartphones.
Traditional smartphones featuring fast charging employ batteries with a rate of 1 to 3C, but the 180W Thunder Charge employs batteries with a rate of 8C, reducing the possibility of overheating due to fast charging. Infinix collaborated with the world's top battery manufacturers to produce an 8C battery cell, the fastest-charging lithium battery on the market. The 8C cell has a multi-electrode lug, which lowers internal resistance by more than 50% and makes less heat. Moreover, the 180W Thunder Charge employs two 8C-rated batteries in series, so each battery's charging power is just 90W, lowering heat and extending longevity. A few days back, Infinix India shared a tweet on ultra-fast charging technology.
Thunder Charge is here! Have a go at guessing the watts on this ultra-fast charging technology!🤔#Infinix #InfinixNewTech #ThunderCharge pic.twitter.com/pR9FSUUzAr

— Infinix India (@InfinixIndia) June 27, 2022
The 180W Thunder Charge also uses automatic bidirectional-power supply technology to extend the life of your device's battery by 2% compared to phones with two cells. The automatic bidirectional-power supply technique decreases the power supply circuit by 60%, boosts circuit layout precision, and saves space. The charging technology uses dynamic distribution. Three parallel charge pumps provide the highest powered conversion yet on an Infinix device, achieving 99% charging conversion efficiency, which eliminates overloads including overheating. This is the maxima of Infinix charging technology till date.
A Safer way to Charge
The 180W Thunder Charge includes 111 software and hardware security methods to safeguard phones, chargers, and charging cords. When something strange happens, like a high temperature, a rise in voltage, or electromagnetic interference, the security protection is turned on to protect the smartphone's system.
The 180W Thunder charge comprises 10 temperature sensors within USB inputs, charging chips, on the battery, and in other places. The charge is managed in real-time via a temperature control algorithm. Keeping the smartphone's thermal oil below 43 °C makes sure that charging is safe, quick, and doesn't damage the battery.
The 180W Thunder Charging Cord incorporates an Infinix Unique Encryption Chip for a fast charge. 180W Thunder Charge can detect a cable's energy capacity and adapt accordingly. When a cable lacking Infinix's special encryption chip is placed into the device, it recognizes the cable and limits power to 60W or 100W to maintain a safe recharge.
Powerful, Compatible & Portable
The new semiconductor material GaN makes the 180W Thunder Charge resistant to temperatures beyond 40 °C. The charger adapter is interoperable with several fast charging protocols and can conduct 100W fast charging for most electronics, including mobile phones, tablets, and laptops, allowing users maximum flexibility with a one-cable-fits-all solution. Users can recharge Infinix devices up to 100W with various cords. In addition, the 180W Thunder Charge offers Furious and Standard settings. Furious mode provides 180W of quick charging at the click of a finger.
Infinix's use of 180W fast charging in its mass-produced smartphones shows that it is knowledgeable about technology and willing to try new things. The firm's main value is to democratize advanced technology while also making it accessible to anyone who desires it. Infinix smartphones use 180W Thunder Charge, which provides consumers with lightning-fast and intelligent charging options. Infinix's 180W Thunder Charge technology is one of the most advanced ever and a big step forward for mid-range smartphones, which are due out later this year.