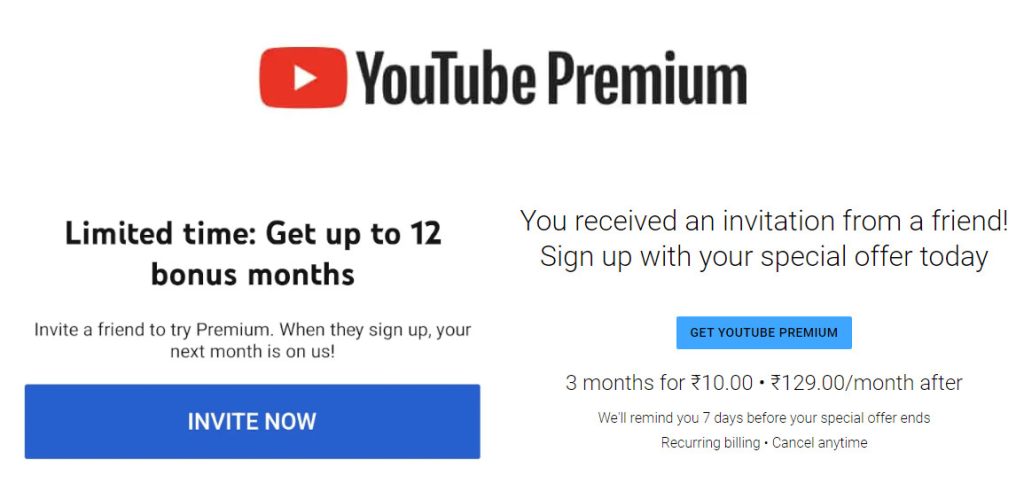 YouTube has launched a new referral program to help spread the word about its YouTube Premium subscription. With this new referral program, an existing Premium subscriber can invite non-premium users to try 3 months of YouTube Premium for Rs. 10/US $0.99 instead of paying Rs.129/month or US$ 11.99. This appears to be a very good deal for new users who want to subscribe and test the features that Premium subscription provides.
The new referral program was first reported by 9to5Google, stating that users are being prompted about the offer after opening the YouTube app this afternoon. As previously mentioned, a referrer (current premium subscriber) who shares his invite link with a new user will receive an additional month of premium subscription for free. As a result, a referrer can receive a free subscription to YouTube Premium for up to 12 months simply by making them signup for the premium membership.
YouTube Referral Program:
Here's how Premium members can refer someone and get an extra month on your subscription:
Open the YouTube app and go to your profile section, available in the top right corner.
Tap on the 'YouTube Premium benefits' option.
Scroll down and tap the "Get up to 12 months of free service" banner.
Copy your unique Invite Link and share the Invite Link via SMS, social media, email or another available method.
And that's it. You're done. The offer runs until May 31, 2023, as per terms and conditions from the firm. Do note that the promotion banner isn't available in the iOS app, and the referral program is currently live in several countries globally, including India.