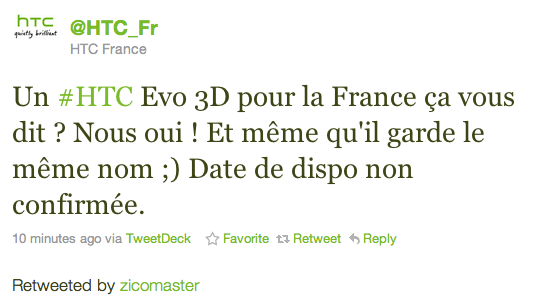 Sprint and HTC recently launched their first ever Android powered 3D smartphone and it's known as HTC EVO 3D. The phone is successor to the famous HTC EVO 4G, which is the America's first 4G phone. You may have seen the video in which HTC is telling us about the new phone. If we were thinking that the phone is only limited to USA, then we are wrong because according to a tweet by HTC France which is spotted by FrAndroid, HTC is launching the EVO 3D in France with the same name. HTC Fr didn't tell us anything about the release date, but it will be available there after launch in USA. The meaning of tweet above is:
A # HTC for France Evo 3D anyone? Yes we are! And it even keeps the same name)available date unconfirmed.
Well people, that's what we know about the phone so far. If you want to check out all the specs and detail of the EVO 3D, then click this link. So our French readers, are you ready to say bonjour to the EVO 3D?
Thanks animatrix for the tip!