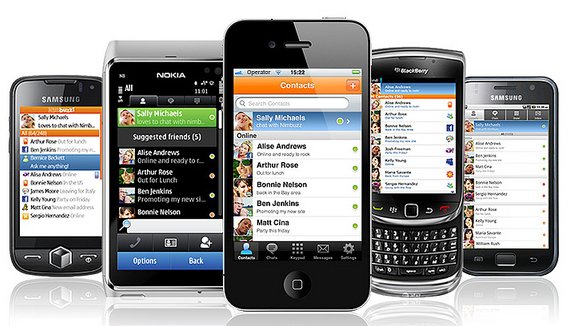 Nimbuzz is one of the most popular mobile applications with over 40 million users. The application has gained popularity amongst users mainly because it offers free messaging and calling features. FoneArena had the chance to speak to Geoff Casely , VP Global Business Development at Nimbuzz .
If you use a smartphone or feature phone user , we are pretty much sure that you might have heard of Nimbuzz or use it constantly. It is a free application available to most major mobile platforms including Java, Symbian , Blackberry , iPhone  and Android which lets you login to multiple Instant Messaging accounts such as Google Talk , Yahoo Messenger and social networking sites such as Twitter and Facebook. The app also offers free calling between other Nimbuzz users. If you wish to call a landline or mobile phone you can choose to use Nimbuzz Out which is a paid service offering international calls at low rates.
The application was launched 4 years ago and has about 40 million users worldwide today. It is seeing no signs of slowdown and adding more than 100K users a day. Majority of the user base comes from Symbian and J2ME phones but they are seeing strong growth in iPhone and Android as well.
When there was a ban on BlackBerry services in the Middle-East region, Nimbuzz saw a huge growth in the number of users signing up for the service from the region. Currently the company has about 10 million users from this region.
Regarding it's growth in India , Nimbuzz becoming a household name in India thanks to OEM handset vendors such as Micromax , Spice who launch the phones with the app pre-installed.
The company is always looking to tie up with operators to expand it's user base.  The company feels that applications such as Nimbuzz are bound to increase data consumption amongst users and improve ARPU(Average Revenue Per User). The company is always innovating in bringing smartphone features to feature phones ( dumb phones) as majority of users still user feature phones.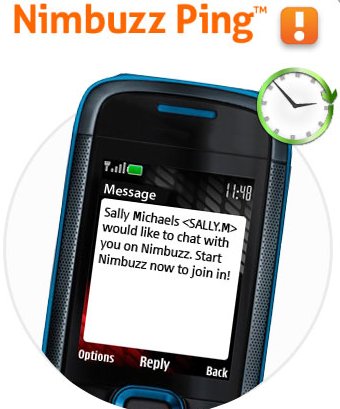 One such initiative is the Ping service which was launched on the network of TelekomSel , Indonesia earlier this year and is expected to be available across more networks in Asia and Middle East. One of the main limitations of using a messaging app on a feature phone is that the communication stops once you leave the app as most feature phones cannot multitask. Most smartphones on the other hand can have the app running in the background and notify you when a friend messages you.
Nimbuzz Ping is a push notification service for feature phones which aims to address this issue. Nimbuzz would send the user a free text message if anyone is trying to contact him on Nimbuzz. You have to launch the app to start the conversation.The company plans to launch the Ping service on Aircel and Idea networks in India soon.
The company also offer a desktop application for PC and Mac users. Other features which the company is currently working on are Virtual Goods and a Friend Finder. Speaking of the Nokia-Microsoft partnership , the company might develop a Windows Phone 7 application as Nokia has always been an important partner.
Do you use Nimbuzz ? What do you love ( or dislike ) about the application ?