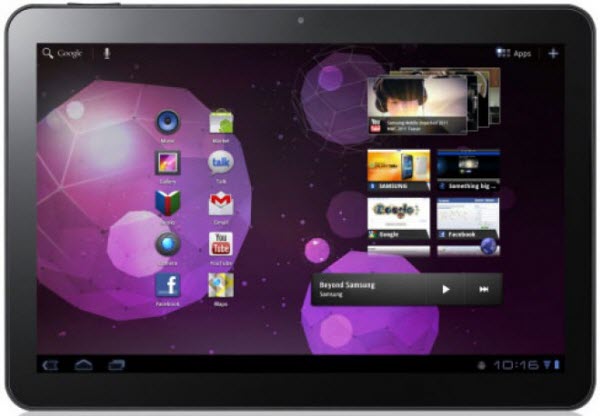 Samsung finally announces its much-awaited Galaxy Tab 10.1 tablet. This device is the successor of the Samsung's popular tablet, the Galaxy Tab. The original Galaxy Tab had a 7 inch display, but the latest Galaxy Tab comes with a large 10.1 inch touchscreen display. The Galaxy Tab 10.1 is powered by the Android 3.0 (Honeycomb) operating system.
"Our first GALAXY Tab successfully defined a new generation of Android tablets," said Hyungmoon Noh, VP of R&D Strategy Group, at Samsung. "We've worked closely with NVIDIA to raise the stakes again. The Samsung Galaxy Tab 10.1, with Honeycomb and Tegra 2, provide the optimal entertainment and multimedia experience without compromising mobility Samsung is known for."
Galaxy Tab 10.1 features a 10.1 inch touchscreen display, Tegra 2 dual core processor, GeForce GPU, Android 3.0 operating system, 8 megapixel camera with full HD (1080p) video recording and playback, HSPA 3G connectivity, MicroSD card slot, 16GB internal storage and more.
This device comes with the Honeycomb's native UI, instead of the TouchWiz UI. Galaxy Tab 10.1 is expected to release in April 2011. The price of this device is not announced yet. Currently, we are live at the Samsung's Press Conference at MWC in Barcelona. Stay tuned for more updates. For latest MWC updates, follow @FoneArena and @0mkarr on Twitter.