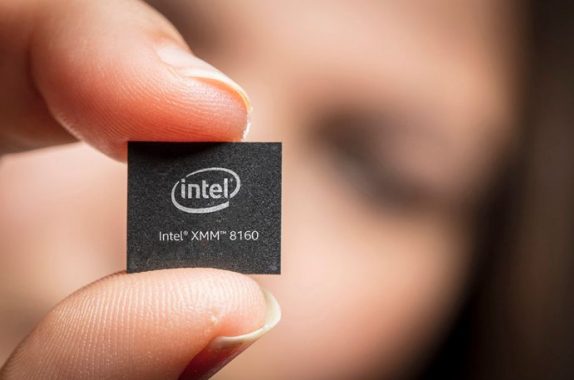 Intel has finally announced the XMM 8160 5G modem that is aimed at providing 5G connectivity to phones, PCs and broadband access gateways. The XMM 8160 5G will support peak speeds up to 6 gigabits per second, making it three to six times faster than the latest LTE modems. The company confirmed that it will be available in the second half of 2019.
The Intel XMM 8160 is a multimode modem, meaning it will support the new standard for 5G New Radio (NR), including standalone (SA) and non-standalone (NSA) modes, as well as 4G, 3G and 2G legacy radios in a single chipset. With single-chip multimode baseband capability, the Intel XMM 8160 5G modem will enable device manufacturers to design smaller and more power-efficient devices.
Since it is advancing directly to a multimode solution, Intel will offer very clear improvements in power, size, and scalability. Intel's integrated multimode solution supports simultaneous connectivity (EN-DC) for LTE and 5G – critical as 5G mobile network devices must be backward compatible to 4G if 5G is not available at any moment or at any location.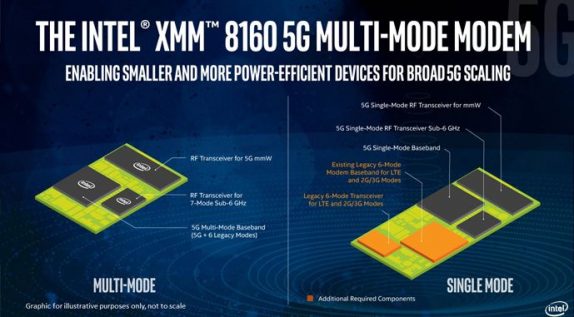 The modem offers support for new millimeter wave (mmWave) spectrum as well as sub 6GHz 5G NR support and download speeds up to 6 Gbps. The industry move to mmWave and mid-band spectrum addresses the enormous need for more bandwidth for users, devices and connected machines. The Intel XMM 8160 5G modem is expected to ship in the second half of 2019. Commercial devices using the Intel XMM 8160 5G modem including phones, PCs and broadband access gateways are expected to be available in the first half of 2020.
Cormac Conroy, Intel corporate vice president, and general manager of the Communication and Devices Group said:
Intel's new XMM 8160 5G modem provides the ideal solution to support large volumes for scaling across multiple device categories to coincide with broad 5G deployments. We are seeing great demand for the advanced feature set of the XMM 8160, such that we made a strategic decision to pull in the launch of this modem by half a year to deliver a leading 5G solution.