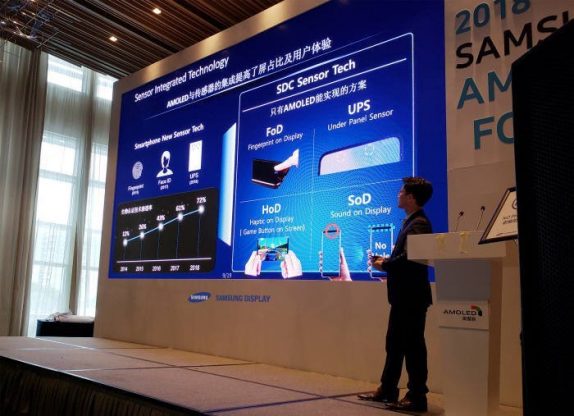 Smartphone space is growing at a rapid pace, we have two types of designs; one where smartphones embrace the notch and there is Samsung which is minimizing the bezels on all corners without a notch. Off late, we have been seeing water-drop notch replacing the regular notch and we have Samsung that is working on eliminating even that by including in-display cameras and sensors.
1.FoD, that is, the fingerprint technology under the screen.
2. UPS, under-screen sensor (including camera) technology.
3.HoD, the touch-sensitive touch-sensitive technology.
4.SoD, screen sound technology.
UPS!UPS!

— Ice universe (@UniverseIce) October 19, 2018
At the 2018 Samsung OLED Forum, the company has announced that it is working on OLED-related technologies as well including the fingerprint under the display, under-screen sensor (including camera) technology, touch-sensitive technology, and screen sound technology. This particular idea isn't new for the words, but since Samsung is actively working on it, we hope it becomes a reality in the near future.
This new technology will hide the front camera underneath the display and the company is said to be testing on a hand full of prototypes using this technology which might retail in 2020. With rumors surrounding around the Galaxy S10 including an in-display fingerprint sensor, and the technology being in the early stages, for now, it will be interesting to see if Samsung would introduce it on the Galaxy S10 that is due 2019.
That's not all, besides working on phones with an in-display camera, Samsung is also working on a gaming smartphone with haptic on Display technology with game button on the screen. However, details regarding the same are scarce at the moment. So, we will have to wait for a couple of months to know more details.