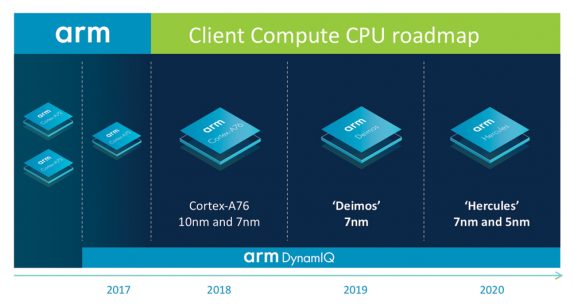 ARM today is giving a  rare peek at the performance expectations for its future processor. The company, in fact, says that the recently launched Cortex-A76 CPU which is capable of delivering an unprecedented 35% gain in performance compared to the previous generation. It is also saying that the foundational CPU IP for the first 7nm SoCs expected to be in production later this year.
The ARM A76 will be based on both 10nm and 7nm nodes and its successor, code named 'Deimos', will be made on the 7nm node. The company says that the devices with the said chip will be in devices in 2019 with a 15% increase over A76. 'Deimos' is based on Arm DynamIQ technology and is expected to deliver a 15+% increase in compute performance.
Right after 'Deimos' is the 'Hercules' and it will be made on both the 7nm node and the yet to be designed 5nm node. It will be 10% faster than Deimos on 7nm and faster still at 5nm. The company, in fact, believes that Cortex-A76 to match an Intel Core i5 7300U in single-threaded performance all while using less power; 15W TDP for the i5 and "under 5W" for the A76. The ARM will be delivering the Deimos to its partners in 2018. While the Hercules will be in the market late 2019-2020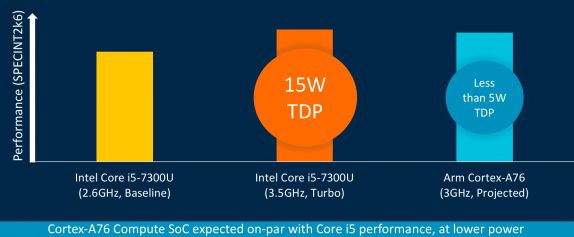 Windows 10 systems powered by Arm-based Qualcomm Snapdragon SoCs are already available from ASUS, Lenovo, HP, and Samsung will be joining the pack soon.
Alex Katouzian, senior vice president, and general manager, mobile, Qualcomm Technologies, Inc said:
The CPU road map Arm has laid out coupled with Qualcomm's heterogeneous approach to computing across our various IP block and integrated connectivity will allow for new advancements in the always-on, always-connected PC experience offered by the Qualcomm Snapdragon Mobile Compute Platform. Our mission continues to bring the best of the mobile world to the PC, with great battery life, sleek innovative form factors, and Windows 10 for on-the-go productivity.