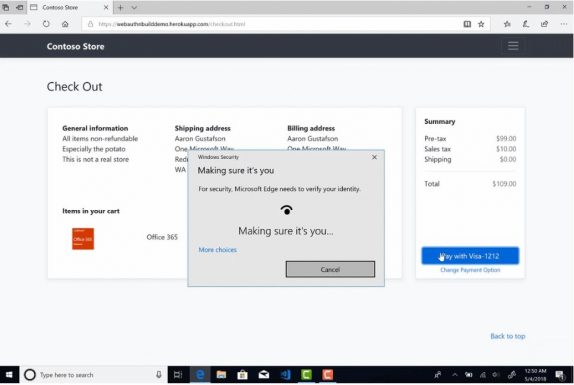 Microsoft today has introduced support for the Web Authentication specification in Microsoft Edge, enabling more secure user experiences and a password-less experience on the web. This lets users sign in with their face, fingerprint, PIN, or portable FIDO2 devices, leveraging strong public-key credentials instead of passwords.
Microsoft says that password-based protection isn't enough to protect the data we store on websites as they are vulnerable to phishing and cracking. With the same goal, the company has been working on technologies like Windows Hello biometrics and pioneering work with the FIDO Alliance to create an open standard for passwordless authentication – Web Authentication.
Beginning with build 17723, Microsoft Edge supports the CR version of Web Authentication. This implementation provides the most complete support for Web Authentication, with support for a wider variety of authenticators than other browsers. Windows Hello allows users to authenticate without a password on any Windows 10 device, using biometrics like face, fingerprint recognition or a PIN number to sign in to websites.
Thanks to the Web Authentication, users can use the Windows Hello to log in to websites in seconds, with just a glance. Users can also use external FIDO2 security keys to authenticate with a removable device and your biometrics or PIN.