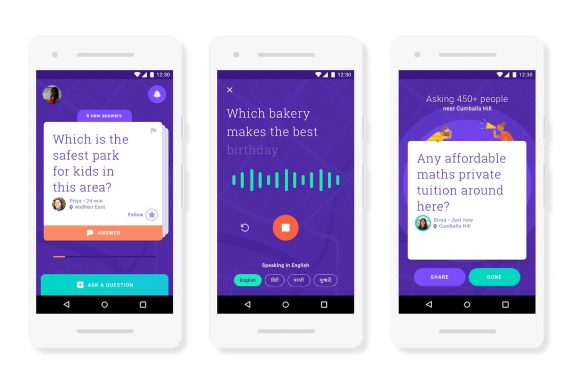 Google today has launched the Neighbourly, a Q&A app for India, aimed at helping you ask your neighbors questions regarding the locality, share local expertise, and keep up with your neighbourhood. This app routes your questions to the relevant neighbours instantly, and then they can write back with the most up-to-date and accurate info.
As group chats keep getting bigger and noisier this app has a lot of potential in sharing knowledge regarding the locality and keep up with updated information. You can ask a question for your family, and it's routed to the neighborhood experts who can help. Users can take advantage of the Google's voice recognition and can speak your question or answer into the app, just like talking to a neighbor. The app currently works in English and eight Indian languages.
As for those who share local expertise, you can easily swipe left and right through the questions and give answers. The more you answer, the more you're recognized for your local expertise. Google says that all the personal details like your phone number, full name, and other contact information are kept private.  The app is currently available in Beta from Google Play Store. It is currently available in Mumbai, but should roll out for other cities soon.