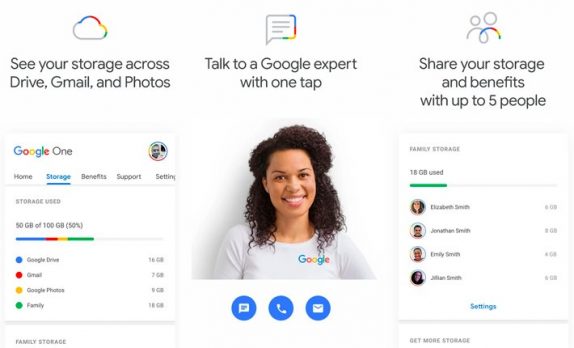 Google, earlier this month introduced the 'Google One' brand where it will be replacing the non G-suite Google Drive storage plans with a new cheaper paid storage plans. All paid consumer Google Drive storage plans will be upgraded to Google One and this change doesn't affect G Suite business customers.
Today, Google has released the Google One app in the Play Store, but since the service isn't live yet, the app does nothing for now. Google One has a lot of storage options, ranging from 100GB to 30TB for you to pick the right option that suits you. Interestingly, Google One also includes plans that are sharable within a family, you can add up to five family members to your plan and simplify storage under one bill.
The base-level storage plan with 100GB storage costs $1.99 per month (or $19.99 per year). There is a new 200GB plan which will be available for $2.99 a month and the 1TB deal is replaced by 2TB for the same price of $9.99 a month. Installing the app is of no use just yet, except for signing up for updates. Interestingly, digging inside the code revealed a string 'subscription.red" similar to YouTube Red, but considering YouTube Red is now re-branded to YouTube Premium, we wonder what the word 'red' indicates.
If you are the one who is seriously looking forward to Google One, you can download the app from Play Store here and sign up for updates.