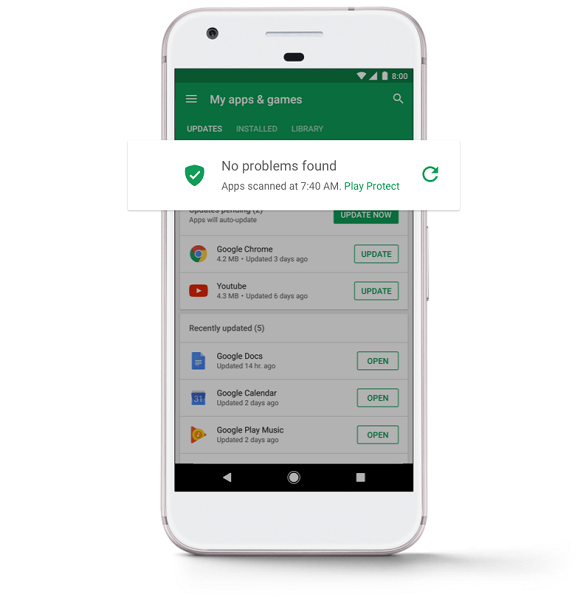 Google today released 4th annual "Android security year in review," and announced that its Play Protection technology has successfully taken down over 39 million from Play Store in 2017. Play protect was announced back in May 2017 at the I/O event.
Play protect feature meant to shield users from Potentially Harmful Apps, and the company says that it automatically reviews more than 50 billion apps, other potential sources of PHAs, and devices themselves and takes action when it finds any. Around 60.3% of all the potentially Harmful Apps were detected via machine learning. This automatic review process removed over 39 million harmful apps last year.
Google also updated the Play Protect technology to detect harmful apps that were installed when a device was offline or had lost network connectivity. Over 35% of new PHA installations happened in such scenarios. Offline scanning feature was enabled in October 2017 and have prevented over 10 million more harmful app installations. It also It reviewed 65% more apps that were newly submitted to the Play Store compared to 2016.
Google also claims that app installations outside of Google Play dropped by more than 60%. Not just that, Google also worked with OEMs to provide monthly security patches and 30% more devices received security patches than in 2016. Though there were instances where Google was a hit or a miss with Malware detection method, app protection was a spot on. Google has paid a total of $1.28 million to researchers in the Android Security Rewards program.
With Android 8.0 Oreo, Google has updated the overlay API so that apps can no longer block the entire screen and prevent you from dismissing them, a common tactic employed by ransomware.With 2017 being such a good year for Google regarding Android security, we expect 2018 to be much sweeter.