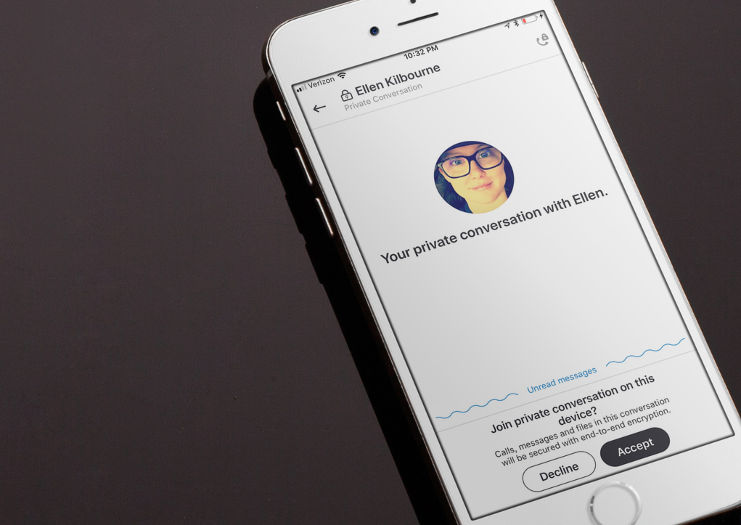 Microsoft has teamed up with Signal; a protocol for the private messenger to bring an experimental feature called 'Private Conversations' with end-to-end encryption on Skype app. However, the end-to-end encryption is only available between one-on-one contacts but not in group chats. 
The end-to-end encryption feature will cover chat, files, and audio messages, but not audio or video calls. The private conversations feature is an additional layer of security for conversations since already offers some degree of encryption to protects chats. To start a private conversation, users need to click the '+' and select New Private Conversation and chose the contact with whom you'd like to start the Private Conversation with.
An invitation will be sent to your contact asking to accept your invitation which is valid for 7 days. Once the contact accepts the invitation, you can start having a conversation. However, the chat will be available on that specific device and If you'd like to move the conversation to a different device, you would need to resend the invitation.
To end the private chat, you need to go to the chat header, scroll down and select End Private Conversation. Deleting the Private Conversations is similar to a regular chat. Additionally, the Private Conversation will have a lock icon next to your contact's name and the preview messages from Private Conversations will not show in chats or notifications. Furthermore, you cannot edit a message or forward a file.
The Private Conversations will be available via beta Skype Insider build (version 8.13.76.8) on Windows, Mac, Linux, Android, or iOS and users with the same build will only be able to exchange messages.
Commenting on the same Signal said:
At Signal, our goal is to make private communication simple and ubiquitous. With hundreds of millions of active users, Skype is one of the most popular applications in the world, and we're excited that Private Conversations in Skype will allow more users to take advantage of Signal Protocol's strong encryption properties for secure communication.