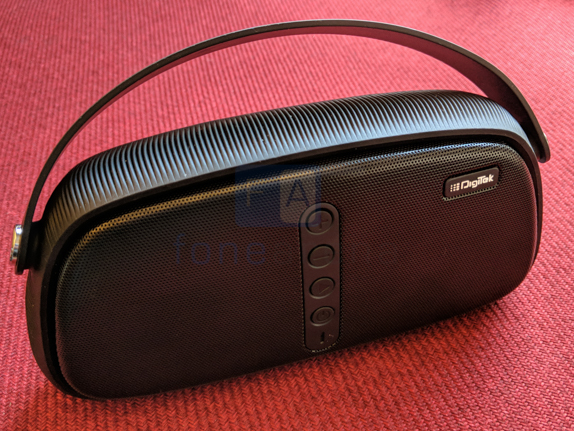 Bluetooth speakers are a dime and a dozen. Hitting every price point, there's a speaker that caters to almost every requirement. When Digitek announced the DBS-005 bluetooth speaker, we were quite curious about how it differentiates itself from the competition. Now that we've spent some time with it. Here's what we think.
Design
The Digitek DBS-005 is one of the nicer looking speakers in the market right now. Going for a look that seems inspired by retro radios and speakers, the front has a central strip of tactile controls flanked by speakers on either side.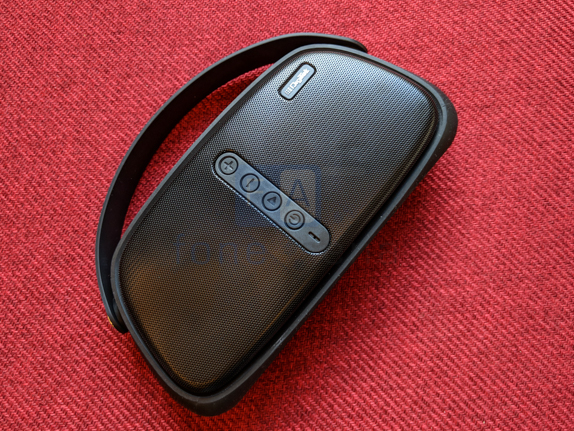 You'll find volume up and down buttons that can also be used to skip tracks. Below it is the play/pause button, power button that is also used for pairing as well as a status LED. Tapping the bluetooth button toggles between connectivity with your smartphone and the built-in FM Radio.
A rubberized layer runs all the way around the body of the speaker. While Digitek doesn't specifically call out the DBS-005 as a rugged speaker but the copious use of ridged rubber around the edges should help it survive a bump or two, perhaps even a fall. In addition, there is a conveniently placed handle at the top that lets you carry the speaker around. The thick and flexible strap at the top lets you carry around the speaker like a purse and easily folds over at the back should you want to hide it away.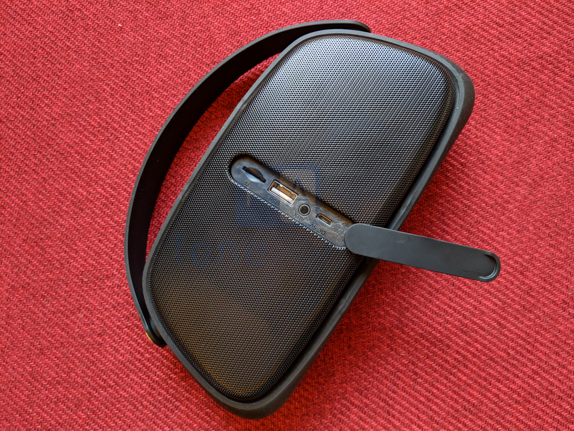 Over at the back of the speaker, you'll observe a rubber strip that is placed symmetrically to the button layout on the front of the speaker. Lifting over the strip reveals a number of alternate connectivity options. The Digitek DBS-005 can accept a microSD card, a USB drive and of course audio over a line in jack. A microUSB connector lies below it to charge the unit. Digitek claims that the built in battery can last up to 8 hours. In our testing we got about 6 to 7 hours of usage out of it with some battery still left over so that estimate is likely correct.
Performance

There's two ways to look at the audio performance offered by the Digitek DBS-005. We quite liked the audio quality from the stereo set. We're not going to be testing this out as a audiophile device since it just isn't meant to be such a speaker. Plainly put, the Digitek puts out fun sounding audio.
Despite the super bass moniker, the DBS-005 certainly doesn't produce deep rumbling bass that would shake your very bones. What it does produce is an acceptable amount and certainly more than what we would expect from a small Bluetooth speaker like this. There's a modicum of thump and Digitek has wisely tuned it to avoid rattling or just sounding like a flat tyre when cranking up the volume. The mids cut through the rest of the audio and stand a bit forward in the mix which once again makes sense. There's a good chance that you're going to be using this to listen to the Top 40s or popular music where the vocals have primary focus. The sound is as lush as you can expect from small drivers like this. There's a hint of top end too. The speaker cabinet is of course too small to exhibit proper stereo imaging but the dual speakers do create a hint of separation and generally product pleasing, radio-friendly audio. Where they suffer however is in sheer volume. Turned up to the max, the speaker just isn't that loud. For personal listening, we could probably live with it though certain dance tracks did make us wish that it would go up a smidgen more. You'll certainly not be using this to throw an impromptu party. Moreover, cranked up to the max, there's a bit of a hiss that is noticeable in quieter tracks or acoustic music.
Conclusion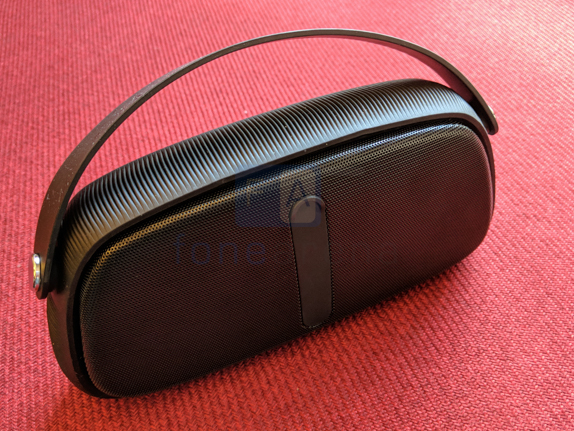 The Digitek DBS-005 is an above average speaker that looks nice and more importantly sounds good at moderate volume levels. If you are looking for something to listen to while working or around the kitchen perhaps, it'll absolutely make the cut. We'd recommend that you temper your expectations from it though since it is neither the most compact unit around (Xiaomi's Bluetooth speaker wins that for us) nor is it the loudest. The Digitek DBS-005 is priced at Rs. 2,995 but is available for much lower online.