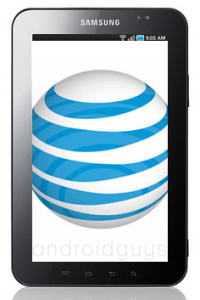 Galaxy Tab is for sure one of the hottest devices in the market, and a lot of people are looking forward to it. In USA, we know that every major carrier is going to get their own Samsung Galaxy Tab. AndroidGuys is reporting that AT&T is the first one to begin training its employees for the sale of the tablet. They also got some information about the price of the data plans which is going to hurt your feelings a little bit if you are planning to get the tablet.
The data plan will cost:
$15/100mb for 1 day
$30/300mb for 7 days
$50/1gb for 30 days
Isn't that too much? Because if you are using an iPad on AT&T, then you are paying only $25 for 2GB only, which means you are saving a good money on iPad plan. I hope this is not true, but if it's true then we are going to see a lot of people dropping the Galaxy Tab. I hope AT&T will clear it soon !