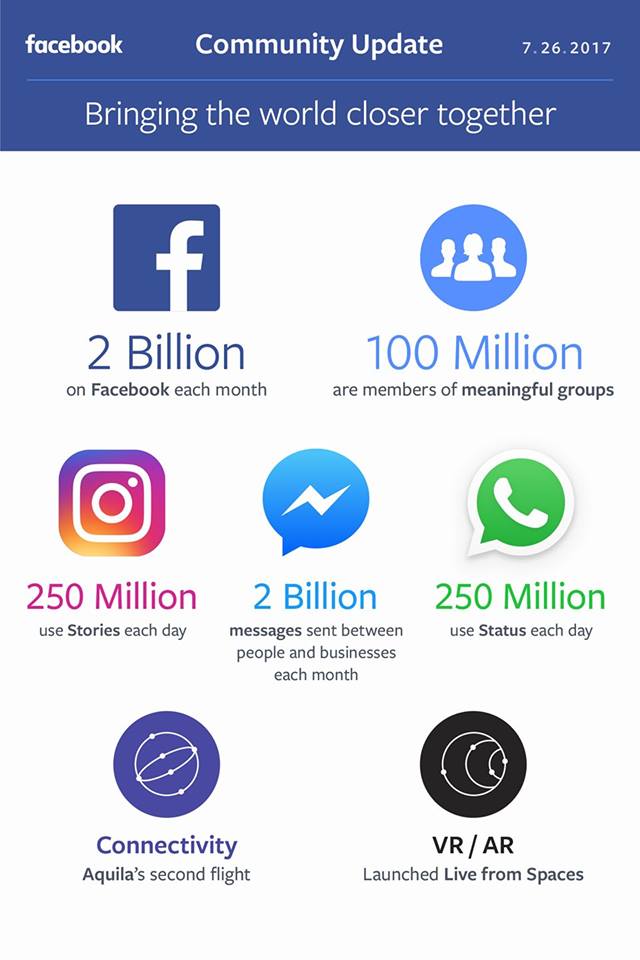 Facebook has revealed financial earnings for Q2 2017. The social network has recorded $9.32 billion in revenue, up 45% year-over-year (YoY). Net profit in the second quarter leapt 71 percent from a year ago to $3.9 billion.
Facebook had announced last month that is has 2 billion monthly active users as of June 30, 2017, an increase of 17% YoY while there are 1.32 billion, up 17% YoY. Mobile advertising revenue represented approximately 87% of advertising revenue for the second quarter of 2017, up from approximately 84% of advertising revenue in the second quarter of 2016.
Mark Zuckerberg, Facebook founder and CEO said,
We had a good second quarter and first half of the year. Our community is now two billion people and we're focusing on bringing the world closer together.
Meanwhile, Instagram now has 700 million users. Direct messaging is accessed by 375 million users while 250 million users use Instagram Stories. Facebook Messenger recently hit 1.2 billion monthly users.