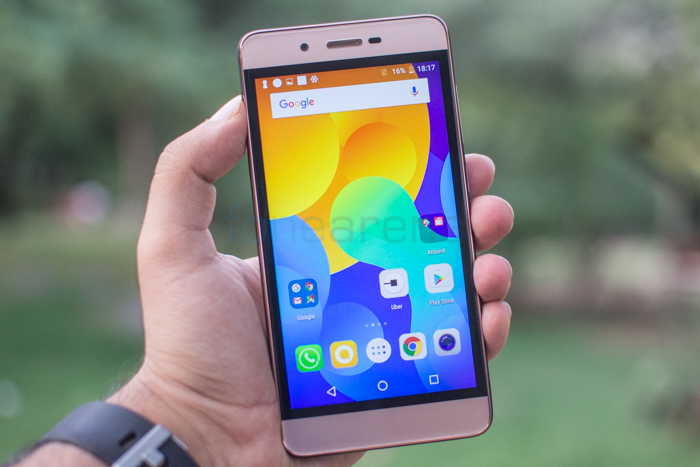 Stepping out from their slumber, Micromax is finally introducing a range of new smartphones. A play in the online-only space, the Evok series is aimed directly at competitors like Xiaomi. With the Evok Power and Evok Note, the first wave of phones target both the large battery and large display wanting market segments. A budget device that is focussed on delivering the essentials, the Micromax Evok Power brings a large battery, sturdy design as it's highlight features. Will that be enough to make it a strong contender in the highly competitive budget segment? We find out in our review.
Micromax Evok Power (Q4260) specifications
5-inch (1280 x 720 pixels) HD 2.5D Curved Glass display with Corning Gorilla glass 3 protection
1.3GHz Quad-Core MediaTek MT6737 processor with Mali-T720 GPU
2GB RAM, 16GB internal memory, expandable memory with microSD
Android 6.0 (Marshmallow)
Hybrid Dual SIM
8MP rear camera with LED flash
5MP front-facing camera
Fingerprint sensor
3.5mm audio jack, FM Radio
4G VoLTE, WiFi 802.11 b/g/n, Bluetooth 4.0, GPS
4000mAh battery
Design
Contrary to what you might expect, the Evok Power looks rather distinctive and that too in a positive way. Call it boxy but the raised edges around the corners certainly are protective in nature and will come in handy in case you drop your new phone.
The front has a 5 inch 720p display with a Gorilla Glass 3 coating on top that is best rated for drop protection. Above the display, you'll find a 5MP front facing camera. There are no capacitive buttons here and you'll have to make do with on-screen controls. What we didn't quite like were the massive bezels around the screen which are rather off-putting to look at.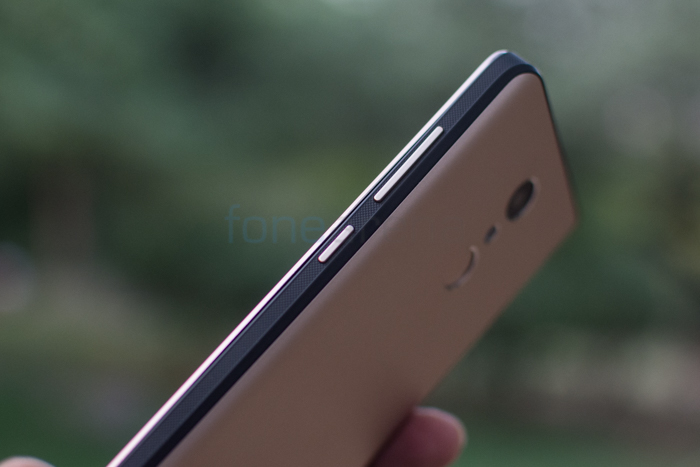 Rubber beading running around the sides of the phone adds a fresh design element to the handset. The beading doesn't just serve an aesthetic purpose though. Micromax claims that the Evok Power is designed as a sturdy companion for users who take their phone out and about. Coupled with the metal rear plate, the phone should be able to take a beating.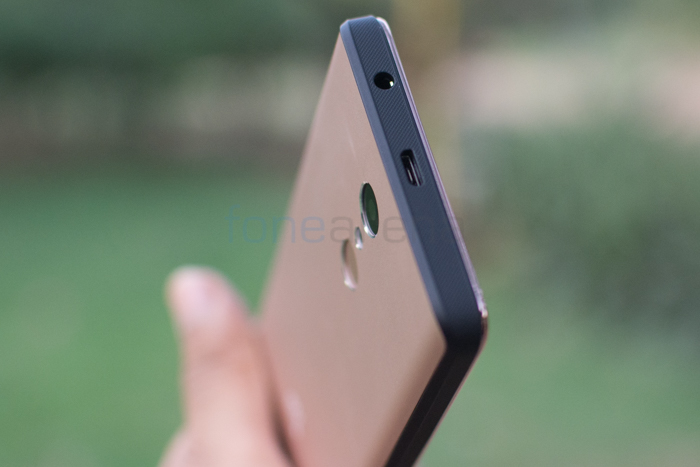 The right side of the phone sports the volume rocker as well as the power button both of which provide good feedback and are easy to reach out even when holding the phone in a single hand. Both the microUSB port and headphone jack are placed along the top edge which is a bit unconventional but not something to be concerned by.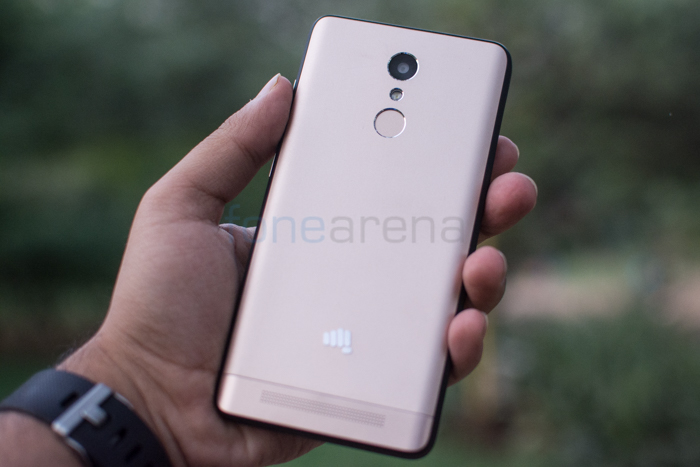 The back of the phone is smart to look at with a removable metal plate. A Micromax logo sits along the bottom edge below which is a plastic end cap that also houses holes for the speaker grille. Towards the upper half you'll notice both the fingerprint scanner as well as the 8MP camera module with a single LED flash placed between them. To their merit, the company has maintained a focus on design and even the rear of the handset looks good. Overall there is little to fault with the hardware design of the Evok Power. Yes, it is heavy but that comes with the territory when you have a gigantic battery stuffed into the hardware. The phone is ergonomic and generally feels well-built and high quality in the hand. Our biggest gripe is perhaps the massive bezels but at this price point, it really is hard to complain about it.
Software
The Micromax Evok Power runs Android 6.0 and that too, not an exactly clean version of it. While we do not appreciate the addition of bloatware, we found some of the other customisations here to be surprisingly useful.
Let's start with the lock screen which is a straight forward affair. Here you can spot regular notifications as well as shortcuts for Google Now as well as the camera app at the two corners.
Swipe up to enter the homescreen and once again you'll spot a fairly conventional layout. Icons and widgets are laid out over on the homescreen panels. Since the phone does not have capacitive keys, onscreen buttons line up along the bottom edge. Tap the center button to get into the app menu and you'll spot a very different layout. As opposed to the straightforward grid like app drawer that we see in most smartphones, the Evok Power uses an alphabetical scroll down list. While we're usually sceptical of changes to the interface, we've got to say that the approach works well enough here and makes it easier to use the phone in a single hand.
What we did not like however was the large amount of bloatware onboard the handset. Starting from the homescreen widget to the 14+ apps installed, it mars the out of box experience. For a device that is already on the low-end of the spectrum when it comes to specifications, this just isn't acceptable.
Performance
The Micromax Evok Power is err… powered by a 1.3GHz Quad-Core MediaTek MT6737 processor with Mali-T720 GPU. This is paired with 2GB of RAM. These specs just about cut it for a modern smartphone but are definitely not going to be setting any performance records. In day-to-day use, the Evok Power works fine though we did notice the occasional frame drop or two. Casual games run fine though they do take a bit longer than expected to start up. The limited RAM means that you'll often run out of memory when juggling multiple apps. If you aim to use the phone primarily as a communications device, the Evok Power should be able to suffice but don't expect it to be a multimedia powerhouse. Here's a few performance benchmarks for your perusal that give you a good idea of comparative performance.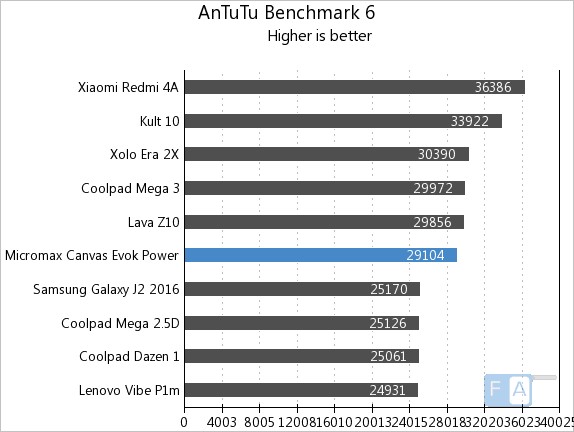 In the AnTuTu 6 benchmark, the phone scores 29104 points which places it above phones like the Coolpad Mega 2.5D and the Samsung Galaxy J2.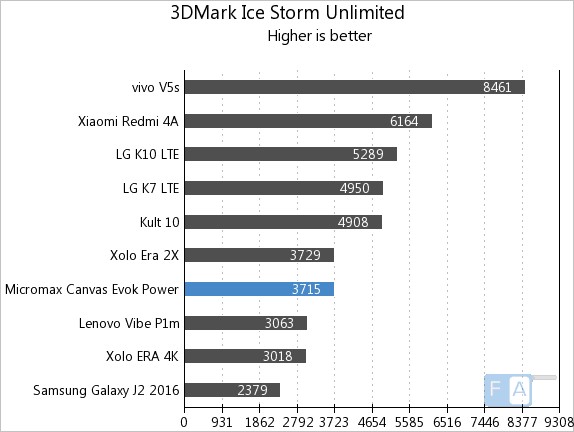 In the 3D Mark benchmark, the phone scores 3715 points which is once around midway through our test bench and places it as a decidedly low-end device. But we already knew that, didn't we?
Display
The display on the Evok Power stuffs 1280 x 720 pixels onto a 5 inch panel resulting in a pixel density of roughly 293 ppi. In practical use, this is absolutely sufficient and while a full HD panel would certainly make icons and text look crisper, we won't really hold it against the device.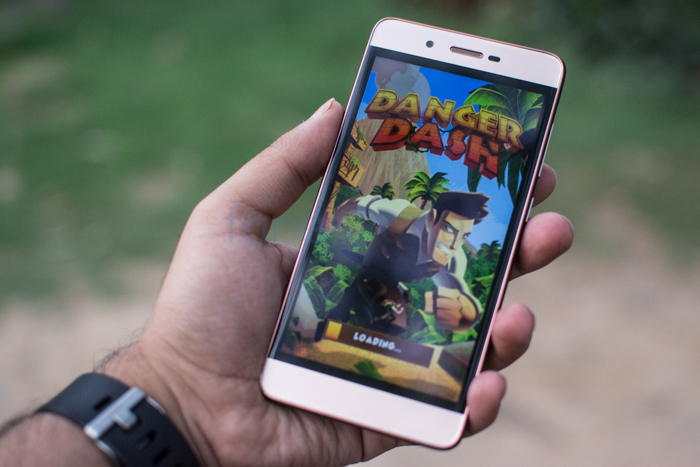 Color saturation is high and the display certainly isn't neutral but videos and images look punchy so if that's what you want, the screen won't disappoint. Brightness levels too aren't quite shabby and it isn't all that hard to view the display in bright sunlight. Touch response however is something that really irked us. Where the likes of the Redmi 4A deliver a top-notch touch experience, there were a couple of occasions where we had to tap the touchscreen a couple of times to register action. Pair this with a rattly vibration motor and usage experience can be a bit disconcerting.
Camera
A serviceable camera is what we expect and what we get in this price range. There's an 8MP camera module on offer here that will take photos when you need to capture a moment and have nothing better on hand.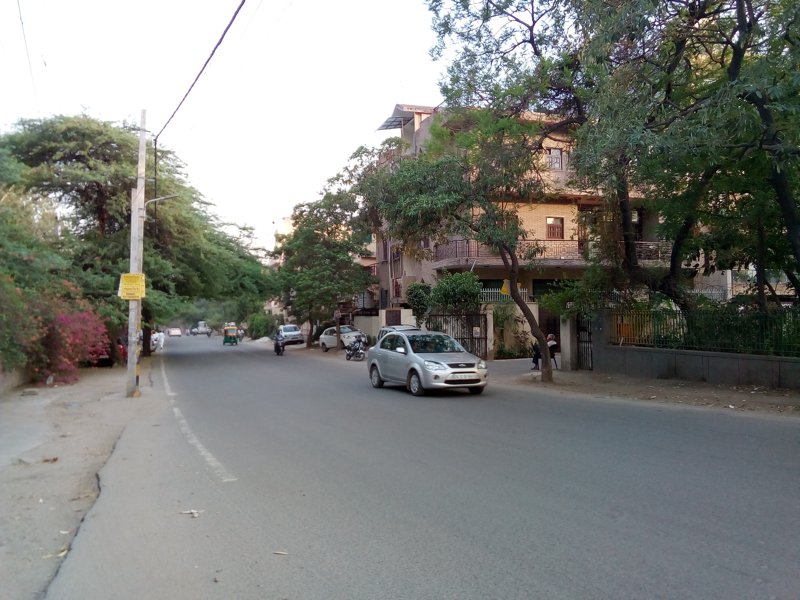 Photos display grain even in decent lighting and zooming in will most certainly reveal a distinct lack of details. There's a hint of shutter lag so capturing objects in motion might prove to be an exercise in futility. This is particularly pronounced in anything less than bright sunlight where the shutter lag will invariably lead to a shaky, out of focus shot. Shooting into the light on the other hand has a tendency to cause lens flares which can be seen in the shot with the scooters.
Macro shots however are surprisingly decent. As is our standing suggestion for devices in this category, low light shots are abysmal and we wouldn't really bother shooting with the phone in less than ideal conditions unless you absolutely must.
Connectivity & Battery Life
In terms of connectivity options, the phone supports 4G as well as VoLTE. The Evok Power is a dual SIM handset with the second SIM slot doubling up as a microSD card slot too. We're not fans of Hybrid SIM slot and it just makes no sense especially in the entry-level class of devices that have limited built-in storage. Talking about storage, there's about 10.5 GB available at first boot with the pre-installed bloatware occupying quite a lot of the total 16GB onboard.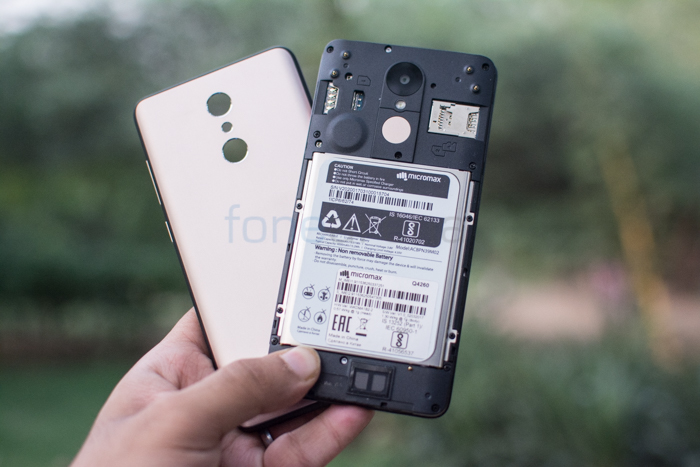 Let's talk about battery life then. The huge 4,000 mAh battery is clearly one of the biggest if not THE reason to opt for the Evok Power. In our testing, the phone delivered stellar battery life that can easily last two full days of average use. Push it hard and you'll still struggle to deplete it by the end of the day. Between the low-end, frugal chipset and the massive battery, you're bound to get fantastic longevity and that's exactly what we observed. In our test routine that simulates real world usage including web browsing, watching videos and tasks like gaming, the phone delivered 9 hours 52 minutes hours of screen on time before it dropped down to the 20% mark.
Conclusion
It's been a long time coming but with the Evok series, it looks like Micromax is back with a bang. The Evok Power is by no means perfect but it gets a lot more right than wrong. The hardware feels good, the marginally rugged frame is well appreciated and there's the huge battery to look forward to.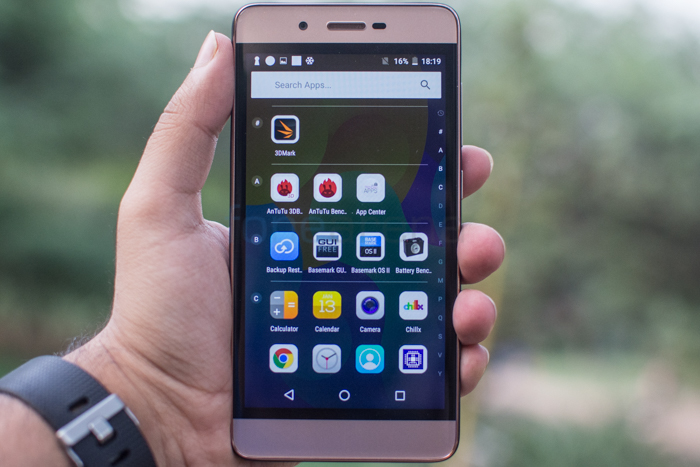 On the other hand, it seems that Micromax still isn't able to shed their legacy of bloatware and the occasional drops in touch response are worrying. Priced at Rs. 6,999, the Micromax Evok Power should definitely be in your consideration if you are looking for a device under Rs. 10,000 mark. That said, the Xiaomi's Redmi series continues to offer a greater degree of refinement.