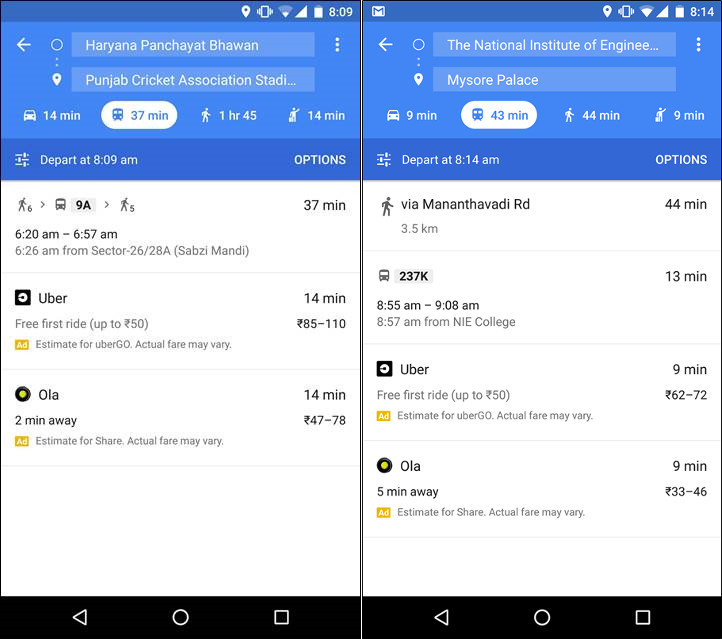 Google India has expanded transit feature on Google Maps to seven more Indian cities including Chandigarh, Lucknow, Vadodara, Indore, Mysore, Surat and Coimbatore. This help users better plan their commute around the city, and make it easier to get an overview of public transportation around them.
With this, transit feature is now available in sixteen Indian cities – the seven newly added cities as well as Delhi, Mumbai, Bangalore, Chennai, Kolkata, Jaipur, Hyderabad, Pune, Ahmedabad.
Google transit will show bus routes and stops, including details such as departure and arrival times, the names of bus stands, and even where to change buses. You can scroll through the options and tap on the one that is most convenient for you, making it easier for you to know when to leave to arrive on time.
Google said that Google Maps globally provides over 1 billion km worth of transit results every day and has schedules for more than 2.5 million public transit stops worldwide. Google Transit is now available for hundreds of cities across dozens of countries, with new partners joining all the time.
Google Transit is available on Google Maps for Android and iOS as well as browser.
Commenting on the expansion, Sanket Gupta, Product Manager, Google Maps, said:
Google Maps is your guide to the world around you, and this launch is part of our effort to reflect the real world and provide you with relevant information about your surroundings.