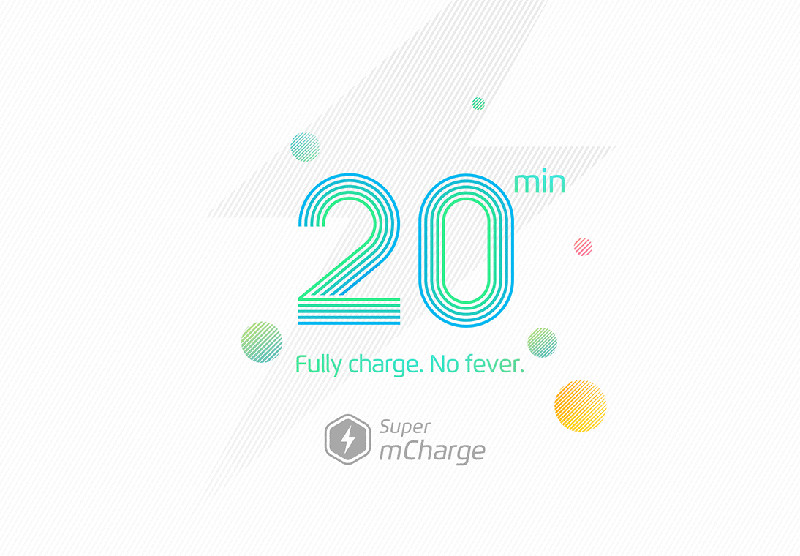 Meizu today announced its Super mCharge fast charging technology at the Mobile World Congress 2017 in Barcelona, as it had promised. It claims that this is the the world's quickest fast charging solution that can fully charge a phone with a 3000mAh battery from 0 to 100% in just 20 minutes. It can charge up to 30% in 5 minutes, 60% in 10 minutes and 85% in 15 minutes.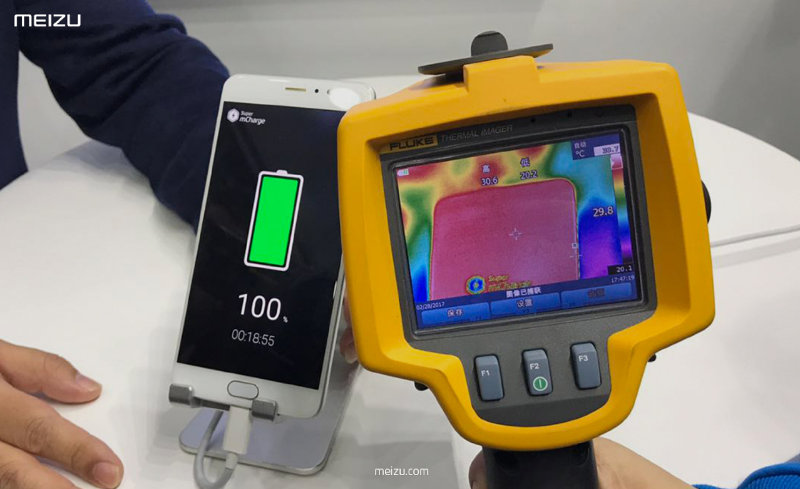 It uses 11V/5A charger that boasts a maximum power of 55W, compared to 18W in Qualcomm's Quick Charge 3.0 and 20W in OPPO's VOOC. Meizu said that it has spent more than a year of R&D to improve the power of Super mCharge to 55W. It also said that this is 98% super-high efficiency compared to QC 3.0 and VOOC.
Super mCharge adopts the Charge Pump Principle, applying only 2 groups of conversion circuits to directly output half of the voltage. This increases charging efficiency by 9% to 98%, and ensures stable performance during charging.
It also said that with Super mCharge, battery temperature tops at 39℃ (102.2℉) during charging (when room temperature is 22°C), resulting in a safer and more reliable charging solution. It said the in case of Qualcomm's Quick Charge 3.0 the battery temperature is increased to 44℃.
For the new charging technology, Meizu has redesigned a new data cable that can carry up to 160W of power, with more than 3 times the safety margin. Meizu has also created its own battery for this. It said that its tests show that its 3000mAh ATL battery retains over 80% capacity after over 800 charge and discharge cycles, giving it a service life of more than two years. It can bear more than 4 times the current of an ordinary battery, which allows it to cope reliably.
Meizu did not say when we can expect this technology in its smartphones.
Commenting on the new Meizu Super mCharge, Li Tao, Supervisor of Meizu's R&D team, said:
Innovation isn't an easy job, but we believe that success comes from passion. We've overcome numerous difficulties and obstacles to create the best technology for all. Super mCharge is not only the fastest charging technology, but the safest one of all.