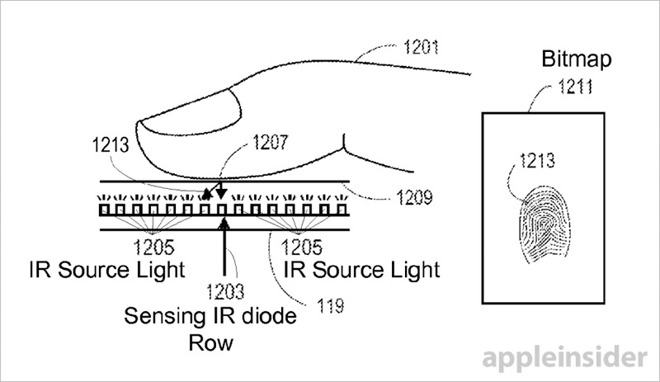 Apple has been granted a patent by the U.S. Patent and Trademark Office (USPTO) for a new fingerprint reading technology. The patent titled "Interactive display panel with IR diodes" was originally filed in 2014 and first spotted by AppleInsider.
As per the patent, the technology could replace the physical home button that is present at the bottom of iPhone's screen. The fingerprint reader will be embedded in the display instead of the home button. This would allow users to touch a device's touchscreen to activate a virtual home button. The technology was invented by LuxVue that was acquired by Apple in 2014. This patent was subsequently assigned to Apple.
iPhone debuted in 2007 with the iconic home button which was simply used to get back to the home screen in iOS. However in 2013, Apple unveiled Touch ID fingerprint sensor that was used to unlock the device and authenticate mobile payments via Apple Pay. Just yesterday, it was reported that Apple iPhone 8 might come with an iris scanner. Apple is expected to bring major design changes to iPhones this year as it is will be company's 10th anniversary.