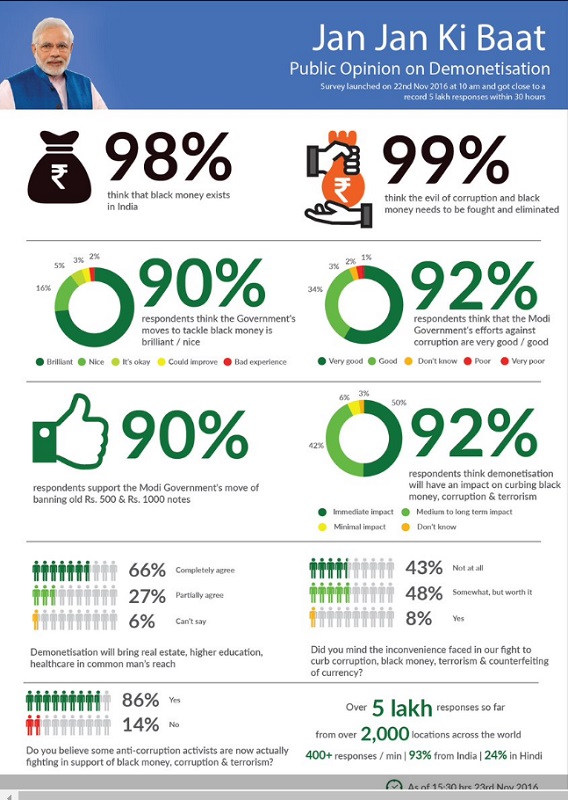 Prime Minister Narendra Modi's decision about demonetization has been creating a buzz even weeks after the announcement. A new survey that was conducted through the official PM app has revealed that over 93% of people support demonetization.

Modi asked Indians to take part in a survey by logging into the official NaMo app. In just over 24 hours of the survey, more than 5 lakh people have participated and expressed their opinion. The survey included questions like Do you think black money exists in India? Do you think the evil of corruption and black money need to be fought and eliminated? What do you think of government's move of banning old Rs 500 and Rs 1000 notes.?
The detailed infograph stated more than 90% of the respondents feel the government's move to tackle black money is above four-star rating while 73% of them give it five-star rating of brilliant. More than 93% people support the move to demonetize the old 500 and 1000 rupee notes. Of the over 5 lakh responses so far, only 2% have rated the move as very poor or one star, said the infograph.
The respondents were from across 2,000 different locations and almost all of them were from India. On the overall fight against corruption, more than 92% of respondents either rate the government as very good or good. 57% of them rate the fight as Very Good. The survey revealed that as high as 86 percent people believed that some anti-corruption activists are now actually batting in support of black money, corruption and even terrorist financing.
Although the results look interesting opposition parties and off course social media users and "tweepsters" are questioning the credibility of the survey as well as responses.
[HTML1]