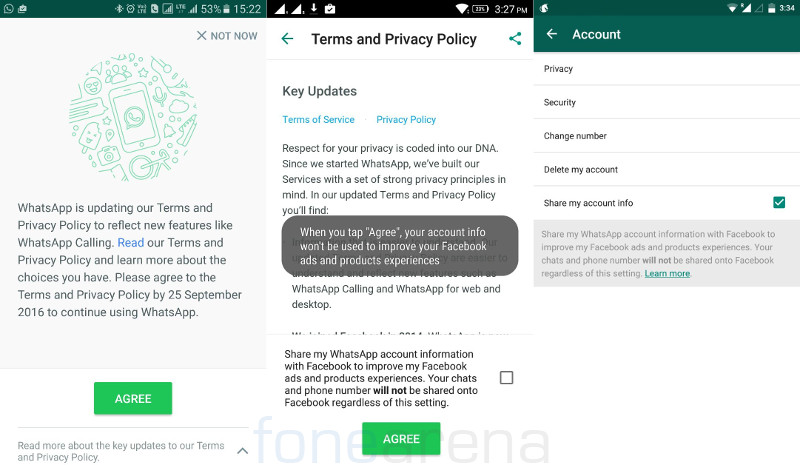 WhatsApp has announced that it is tweaking its privacy policy for the first time since it was acquired by Facebook. With changes in policy, businesses can send messages directly to people using the platform.
It will also begin pushing users to share some of their account information with Facebook. WhatsApp will share your phone number with Facebook for better ad targeting and friend recommendations along with improved statistics and spam prevention. However, the service assures that it will still not allow third-party banner ads which will be welcomed by its more than 1 billion users.
WhatsApp said in a blog post,
We want to explore ways for you to communicate with businesses that matter to you too, while still giving you an experience without third-party banner ads and spam.
WhatsApp says by sharing your number with Facebook, it wants to offer services like getting notified by your bank about a potentially fraudulent transaction or being warned about a delayed flight. The service further says your messages, photos, and account information, will be not be shared onto Facebook or any of the Facebook family of apps for others to see.
Users can opt out sharing their WhatsApp account information shared with Facebook to improve your Facebook ads and products experiences. Existing users who accept WhatsApp's updated Terms and Privacy Policy will have an additional 30 days to make this choice by going to Settings > Account.
WhatsApp which started as a simple instant messaging app has snowballed into a full fledged service has rolled out several new features such as end-to-end encryption and WhatsApp Calling alongside various other messaging tools like WhatsApp for web and desktop. The company is set to test the new features in the coming months. You can visit WhatsApp's FAQ page for further details.
Srivatsan contributed to this post