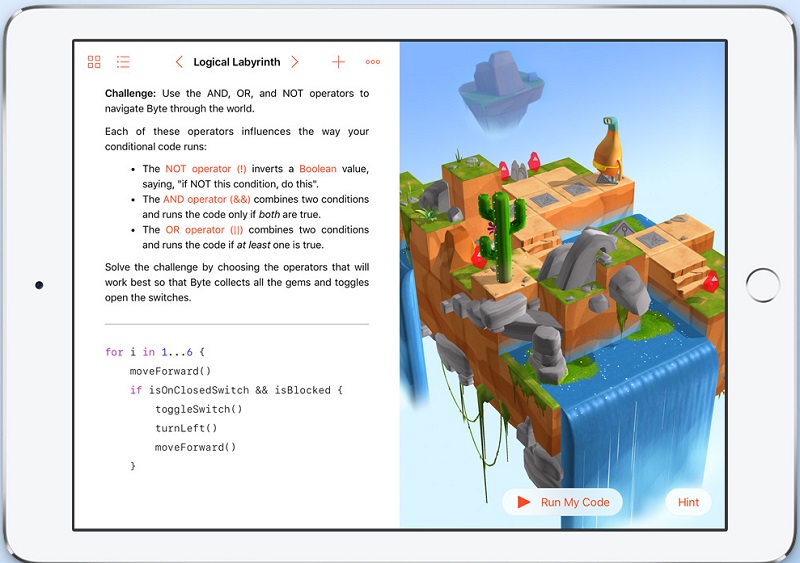 Apple has launched Swift Playgrounds app for iPad that teaches kids to code. It includes basic concepts of coding along with Apple-developed programming lessons where students write code to guide onscreen characters through a graphical world and solving puzzles  as they learn core coding concepts.
The app also features built-in templates to encourage users to express their creativity and create real programs that can be shared with friends. It includes Apple-developed programming lessons that helps students learn core coding concepts, such as issuing commands, creating functions, performing loops and using conditional code and variables, and so on. Apple will regularly release new standalone challenges so students can continue to refine their coding abilities as their skills and interests grow.
Moreover, Swift Playgrounds comes with a number of built-in templates to help aspiring developers express their creativity. Students and developers can modify and build on this code to make it their own by adding graphics and touch interactions. Swift Playgrounds allows you to create a virtually unlimited variety of interactive programs using Swift and the iOS frameworks. And since Swift Playgrounds uses real Swift code, projects can be exported directly to Xcode to create programs for iOS and macOS that can ultimately be turned into full-fledged apps.
A new coding keyboard lets you quickly type additional characters common to Swift programming by swiping across the key, while a shortcut bar presents the most likely next commands or values based on context. And, using a pop-over keypad, you can simply tap to edit a number in place, touch a color value to display a color picker, and even drag the boundaries of a loop or function definition to wrap around existing code. You can also drag from a library of common coding snippets to create new, powerful code with little or no typing.
A preview release of Swift Playgrounds is available today to Apple Developer Program members as part of the iOS 10 developer preview and will be available with the iOS 10 public beta in July. The final version of Swift Playgrounds will be available in the App Store for free this fall. Swift Playgrounds is compatible with all iPad Air and iPad Pro models and iPad mini 2 and later running iOS 10.
httpv://www.youtube.com/watch?v=3N-7DlNpJr0