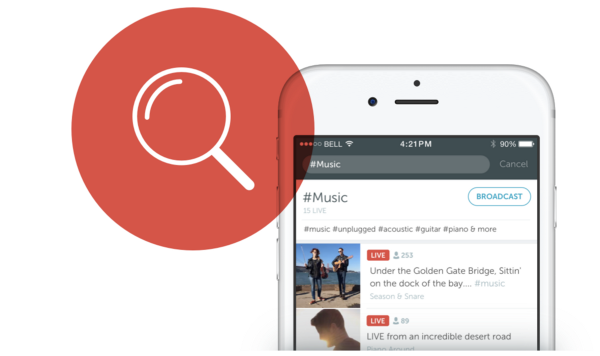 Periscope is adding a number of important features to its platform. The Twitter owned live streaming service will now let users search for live streams, save broadcasts forever and there is also an integration with DJI drones.
First up, Periscope will able to search for broadcasts by title or topic. After tapping the search button in the Global List, users will see a list of suggested topics like travel, food, music and so on. In order to broadcast about a topic, you will have to simply tap the Broadcast button in the topic's search results to add the relevant hashtag, or add the hashtag to your title directly. The improved broadcast discovery feature will help users keep a better tab on events happening across the globe.
Periscope further said that it is testing two special topics "First Scope" and "GoPros and Drones". The former lets you welcome new broadcasters while the latter you can find broadcasts from GoPros and drones. The service is adding support for integration with DJI drones which will allow drone owners to pair their iPhone to their drone's remote and Periscope will pull in the video feed. Currently, only the DJI Inspire, Phantom 4, Phantom 3 Professional, Phantom 3 Advanced and Osmo are supported. Unfortunately drone streaming will only be made available on iOS.
Last week, Periscope released a public beta for that lets you save broadcasts beyond 24 hours i.e forever. Users will be able to save their broadcasts automatically on Periscope and Twitter with comments and hearts. These saved broadcasts can be deleted at any time in the post-broadcast screen or in your profile. There will be an account setting to make broadcasts disappear after 24 hours.
Periscope said that the search and save features will roll out to both Android and iOS over the next few weeks.