Ola has announced that it is shutting down its food and grocery delivery business Ola Store and Ola Cafe. The move comes from Ola only days after, Flipkart pulled the plug on its hyperlocal service Flipkart Nearby.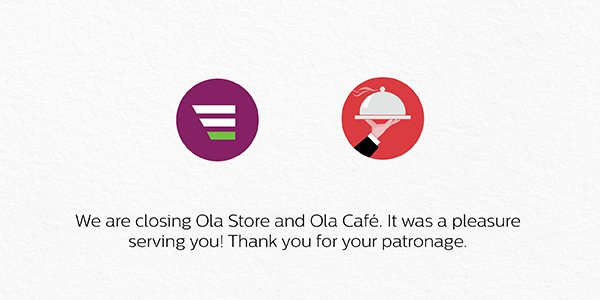 The company said that Ola Store app and Ola Café category on the Ola app will not be available from this week onwards. Ola had launched Ola Store which offered online grocery delivery in Mumbai, Hyderabad, Delhi and Bangalore in July last year. Meanwhile, the Ola Cafe icon which offered online food delivery has disappeared from the Ola app.
Ola said in a blog post,
As we strengthen our focus on building mobility for a billion people, we are drawing these two experiments to a close and taking learnings from these to serve you better in the time to come.
Flipkart and Ola are the latest companies that are withdrawing from the hyper local market. Similar players such as Grofers backed out from nine cities as smaller markets did not contribute much to their revenues. PepperTap also shut down its operations in ten locations including big markets like Mumbai, Chennai and Kolkata.