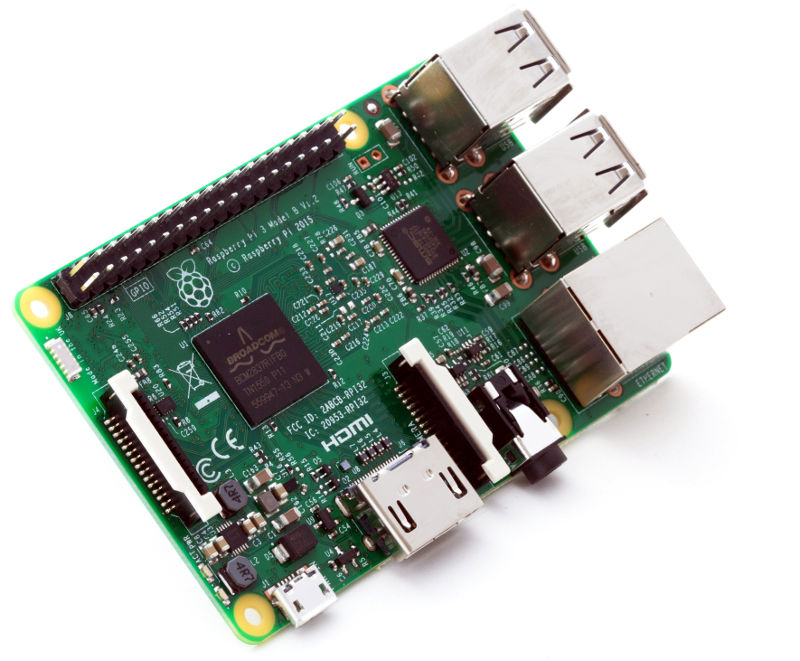 Months after introducing its most affordable Raspberry Pi Zero, the company has introduced the Raspberry Pi 3, successor of the Raspberry Pi 2 that was introduced back in February last year. Even though it is in the same size and has much of the same components on board as the Pi 2, the new Pi 3 has a faster 64-bit quad-core Broadcom BCM2837 SoC with ARM Cortex-A53 CPU, has built-in Wi-Fi 802.11n and Bluetooth 4.1.
httpv://www.youtube.com/watch?v=rLAblELXygA
"It provides a 50-60% increase in performance in 32-bit mode versus Raspberry Pi 2, or roughly 10x performance over the original Raspberry Pi," said the company. The Pi 3 features a chip antenna where status LEDs were located previously and the status LEDs have been moved right next to the microSD card slot.
Raspberry Pi 3 Specifications
1.2GHz Quad-Core Broadcom BCM2387 ARM Cortex-A53 processor, Dual Core VideoCore IV GPU
802.11 b/g/n Wireless LAN and Bluetooth 4.1 (Bluetooth Classic and LE)
Open GL ES 2.0, hardware-accelerated OpenVG, and 1080p30 H.264 high-profile decode capable of 1Gpixel/s, 1.5Gtexel/s or 24GFLOPs with texture filtering and DMA infrastructure
1GB LPDDR2 RAM, microSD Card Slot
Operating System: Operating System Boots from Micro SD card, running a version of the Linux operating system or Windows 10 IoT
Dimensions: 85 x 56 x 17mm
Power: Micro USB socket 5V1, 2.5A
Ethernet: 10/100 BaseT Ethernet socket
Video Output: HDMI (rev 1.3 & 1.4, Composite RCA (PAL and NTSC)
Audio Output: 3.5mm jack, HDMI, USB 4 x USB 2.0 Connector
GPIO Connector: 40-pin 2.54 mm (100 mil) expansion header: 2×20 strip Providing 27 GPIO pins as well as +3.3 V, +5 V and GND supply lines
Camera Connector: 15-pin MIPI Camera Serial Interface (CSI-2)
Display Connector: Display Serial Interface (DSI) 15 way flat flex cable connector with two data lanes and a clock lane
The Raspberry Pi 3 is priced at $35 (Rs. 2,400 approx.), same as the Pi 2 and is available from its partners element14 and RS Components. The company said that it will continue selling the Raspberry Pi 1 Model B+ and Raspberry Pi 2 Model B and is not planning to launch a Raspberry Pi 3 Model A, with the Model A+ form factor, during 2016. It will introduce a BCM2837-based Compute Module 3 in the next few months.