Epson has announced the third generation of its Moverio smart glasses for augmented reality at the Mobile World Congress in Barcelona. The smart glasses features silicon-based OLED digital display by Epson that is suitable for augmented reality (AR) and virtual reality technology.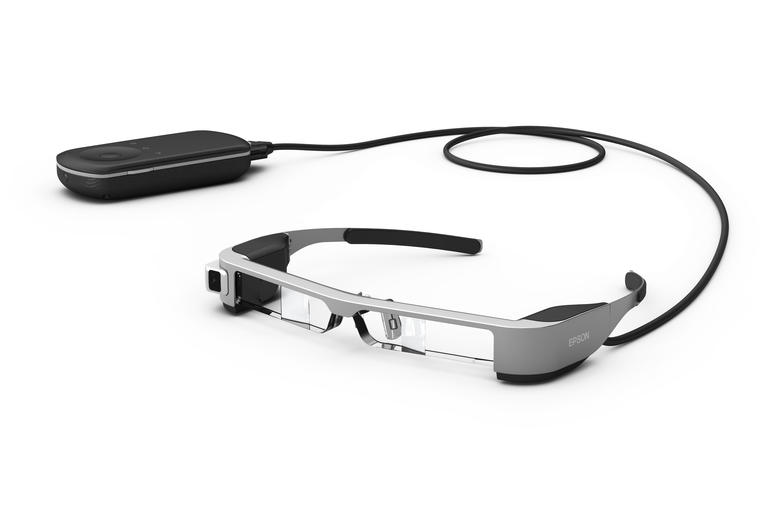 The Moverio BT-300 is more than 20% lighter than the Moverio BT-20 and is powered by a quad core Intel Atom X5 processor and runs Android 5.1. It sports a a 0.43-inch Silicon Oled HD display (1280×720) and a 5 mega pixel front-facing camera. The sensors on the smart glasses enable to determine the location of objects.The Si-OLED projection system can seamlessly render and lock 3D content to these objects, with no display background or edges in the field of view.
Epson Moverio BT-300 highlights:
20% lighter than BT-200 glasses
Si-OLED projection system in glasses
Intel Atom X5 processor
Android 5.1
Unique design fits over regular glasses
Improved nose and cable design for comfort
0.43 inch HD binocular display (720p) (1280×720)
Dual display for 3D content
Motion tracking
Wider color spectrum projection than BT-200
5m pixel camera
Eric Mizufuka, product manager, New Ventures for Epson America said in a statement,
The Epson Moverio BT-300 is a major leap forward in mobile AR smart eyewear, with its comfortable, lightweight form factor and amazing new display engine – and at a price comparable to smartphones. The transition from LCD backlit projection to Si-OLED enables higher contrast levels, a wider color gamut and true display transparency – this is a game-changing technology that will accelerate the adoption of AR glasses. We've built our AR ecosystem of partners and solutions over the past five years and three commercially available products – it's been a long journey and we've learned a lot. We've incorporated these learnings into the design of the Moverio BT-300 and are confident that this device will be the standard in the AR glasses category. In addition to pursuing new markets for our technology, we will rapidly scale in areas where we've had commercial success, including drone photography, remote support, AR training/maintenance, healthcare, retail, logistics and more.
The Epson Moverio BT-300 will be available in late 2016 and is available for pre-order on the company website. Pricing for the device is not known yet.